Booking Request »

1.250.814.5060
Cat Skiing
Experience cat skiing with unlimited vertical at Revelstoke Mountain Resort in the legendary Selkirk Range for an unforgettable adventure.
Important Note: Demand for Cat Skiing at Revelstoke Mountain Resort is incredibly high with over 80% of seats booked before December 1st. During optimal weather conditions, we do operate a Storm Cat on additional days of the week and maintain a wait list for cancellations. Interested parties may register by visiting the Revelstoke Outdoors Centre in person during their visit.
Take in the breathtaking views of the Monashee Mountains and the Columbia River from South Bowl, Montana Bowl and Kokanee Bowl.

Enjoy fabulous alpine bowls, naturally gladed slopes and our renowned light, dry powder snow. Snow conditions and the group's ability will dictate the terrain that is accessed each day. Full-day packages include unlimited vertical, equipment rentals, on-slope lunch, and après ski appetizers.

Cat Skiing operates on Tuesdays, Thursdays and Saturdays from December 13th (excluding Christmas Day), and during January, February and March. Participants must be a minimum age of 15 to go Cat Skiing at Revelstoke Mountain Resort. Participants ages 15-18 must be accompanied by a legal parent or guardian.

Rates

| Dates | Rate |
| --- | --- |
| December 13 - 18, 2014 | $300 |
| December 20, 2014 - March 28, 2015 | $475 |

Cat Ski and Stay at the Sutton Place Hotel

Enjoy slopeside luxury from just $400 per person, dbl occupancy.

Enhance your Cat Skiing experience with accommodation at the Sutton Place Hotel, Revelstoke Mountain Resort. Located just steps from the Revelation Gondola, guests of the Sutton Place Hotel are able to enjoy the true resort experience. Meet your guide for the day in the Revelstoke Outdoors Centre before heading over to the RMR Rental Shop to pick up your high performance powder ski/board rentals.

Hotel Amenities

All master bedrooms with King size beds and luxurious bedding
Spacious oversized bathrooms with soaker tub and shower
Washer and dryer in each suite
Expansive windows to maximize views
Rockford Wok | Bar | Grill, The Mackenzie Common Tavern
Outdoor pool and hot tubs, full fitness faciltiy
Secure underground parking, bike and ski storage
Concierge services
Spacious balconies
Gas fireplaces
Pet friendly

Contact us today to customize your Cat Skiing adventure with a night at the luxurious Sutton Place Hotel. We can also help you arrange transportation to the Resort, along with additional activities through the Revelstoke Outdoors Centre. Contact our central reservations team at 250.814.5000 to book your Cat Ski and Stay package.

Schedule

| Time | Scheduled Event |
| --- | --- |
| 7:15 am | Meet at Guest Services to check-in for the day. |
| 7:45 am | Meet your Guides for the day and sign a release of liability waiver. |
| 8:00 am | Load the Revelation Gondola and proceed up the Stoke Chair. |
| 9:00 am | Backcountry Orientation and Avalanche Beacon training. |
| 10:00 am | Cat Skiing begins! |
| 12:30 pm | Enjoy your lunch in a beautiful backcountry setting. |
| 12:45 pm | Cat Skiing continues. |
| 4:00 pm | Return with your group to enjoy après ski appetizers. |
| 4:30 pm | Return your rental equipment to the Rental Shop in The Sutton Place Hotel. |

Fitness & Ability

In order to go Cat Skiing with Revelstoke Mountain Resort you must be able to ski strong parallel turns on easy black runs.

It is important to have good cardiovascular fitness in order to enjoy the demands of playing in our snow. We recommend that you engage in some kind of exercise program for eight to ten weeks prior to your ski trip. The fitter you are, the better you will be able to overcome any skiing challenges and avoid injuries.

Several full days of lift-serviced skiing or snowboarding combined with powder skiing lessons are a great way to get ready for your trip, particularly if you can try some gladed runs and powder. We recommend that you use a pair of our high performance skis and boards suitable for the snow conditions.

You may also be interested in a Cat/Heli Prep lesson to help ensure that you are ready for every run.

Backcountry Safety

Our certified Guides and Assistant Ski Guides have been guiding in the terrain now known as Revelstoke Mountain Resort since the early 1980s.

Together with the Avalanche Forecasting Professionals and Pro Patrol Team at Revelstoke Mountain Resort, our Guides evaluate the snowpack, on-going weather patterns and terrain on a daily basis. The majority of our Cat Skiing terrain is gladed with open meadows. Exposed terrain is avoided when high avalanche hazards are present.

Additional steps taken each day include safety briefings, beacon demonstrations, distribution of an avalanche beacon for each guest, training on how to use additional backcountry equipment, and continuous communication between guides and guests throughout the day about the terrain and hazards around them.

Terms and Conditions

Our goal is to provide you with the best cat skiing experience possible. Sometimes the weather and/or snow conditions do not cooperate and we are unable to operate cat skiing on your scheduled date. If we are unable to operate we will offer a full refund or the option to rebook (based on availability).

Please review the following terms and conditions of our cancellation policy.

Terms and Conditions

All rates and deposits must be in Canadian funds, and an allowance will be made for exchange if payment is in foreign currency.
An initial non-refundable deposit of $200.00/Cat Ski seat or $400.00/person per Ultimate Package must be put down when applying to book.
Payment in full is required when booking Cat Skiing or the Ultimate ROC Package after December 1, 2012.
In cases of cancellation, the cancellation must be received by telephone and confirmed in writing.
If cancellation is received less than 30 days before the trip commencement, and if you can find a replacement for the trip booked, all funds will be transferred to your replacement.
If cancellation is received by RMR less than 30 days before trip commencement and you cannot find a replacement for the trip booked, the total of all deposits will be retained by RMR and STHS.
If cancellation is received by RMR and STHS more than 30 days before trip commencement and you cannot find a replacement for the trip booked, the amount of $200.00/cat ski seat or $400.00/Ultimate ROC Package will be retained by RMR and STHS as administration and cancellation fees.
A reservation will be cancelled immediately if we have not received full payment by the due date.
That you will not be permitted to participate in any RMR and STHS trip unless a "Release of Liability, Waiver of Claims, Assumption of Risks and Indemnity Agreement" is properly signed and witnessed.
RMR and STHS require all participants to be 15 years of age or older. Participants who are 18 years old or younger must have a parent or guardian to co-sign their waiver as well as ski with them at all times.
It is your responsibility to arrive at the required time and location to commence any trip. It is also your responsibility to ensure proper entry through Canadian Customs and Immigration if entering from outside Canada.
RMR and STHS reserve the right to cancel any ski package at any time due to mechanical failure, guest and staff safety and weather and snow conditions. Full refunds will be given in the case that no alternate date suits the guests.
Cat skiing requires a minimum of 6 guests in order to operate for the day.
The use of a RMR/STHS issued Barryvox Pulse transceiver is mandatory while skiing with us and it is your responsibility to safeguard and return it to us at the conclusion of your stay. Should the transceiver not be returned, a charge of $400 + tax will be added to your final bill.

It is recommended to purchase Trip Cancellation and Interruption Insurance through your preferred insurance provider. If requested, additional information can be provided by Revelstoke Mountain Resort.

Special Note to Group Organizers

The group organizer is responsible to ensure that all guests receive the RMR and STHS literature and are fully aware of the policies in it. The group organizer is also responsible for making sure payment deadlines are met.
---
All rates are subject to applicable taxes.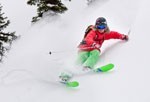 Inside Tracks
Learn how to make the most of every run to ensure you're well prepared for your Cat or Heli skiing experience. This full day program includes lunch! Call the Revelstoke Outdoors Centre at 250.814.5060.