Booking Request »

250.814.5060
Great Canadian Snowmobile Tours
Snowmobiling in Revelstoke BC, Canada is all about riding fabulous, deep, powder snow.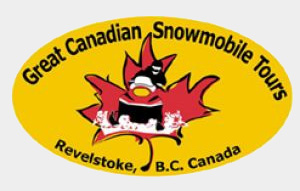 Great Canadian Snowmobile Tours is Canada's premier backcountry snowmobile tour & rental company. With over 19 years of snowmobile experience in the Revelstoke Mountains, they have perfected the art of mountain riding. Book a tour through the Revelstoke Outdoors Centre for an unforgettable mountain adventure.
| Tour Name | Description | Price | Departure Time |
| --- | --- | --- | --- |
| The Sledder | Get a taste of mountain snowmobiling with this 2 hour introductory tour on Frisby Ridge. | $159 pp | 10am, 12pm, 2pm, 4:30pm, or upon request |
| Snow Fun | Enjoy 3.5 hours on the trails and in the alpine at either Boulder Mountain or Frisby Ridge. | $209 pp | 10am, 2pm, or upon request |
| Alpine Barbeque | A delicious and fun barbeque at the "Glacier Station", our private backcountry cabin at 6,200 feet. | $289 pp | 4:30pm (5:30pm in March and April) |
| Summit Ride | Experience the deep powder snow of the Monashee Mountains on this full day ride. Your package includes a 600cc mountain machine rental, lunch, riding gear, avalanche safety equipment, and a complimentary drink in our Sledders Pub at the end of the day. | $399 pp* | 8:45am |

Note: All rates are in Canadian Dollars and subject to applicable taxes plus a $6 government levy. All rates are per person or per snowmobile. All tours are subject to availability.

All tours are based on a 600cc snowmobile. Upgrades to 800cc are available at an additional charge.
Tours are conducted based on single riding only. We do not conduct tours with passengers.
Snowmobile gear and a helmet are provided for all tours. Gloves, backpacks and goggles are not included.
Optional insurance is available for $35/machine and reduces the deductible the full damage amount to $1,000 per incident. Insurance is highly recommended.
Reservations are accepted for our short tours starting 30 days prior to the reservation date.
A minimum of 2 participants is required on short tours, 4 on barbeque tours.

Reservations can be made by contacting us by phone at 250.814.5060 or by email at roc@revelstokemountainresort.com. A minimum of 24 hours notice is recommended, but we will always try to accommodate last minute requests.

Cancellation of Tours

Tours can be cancelled without charge up to 24 hours prior. For cancellations within 24 hours or on the day of your tour departure, a $50 admin fee will be charged.

Snowmobile Experience Required

Snowmobiling in 4 feet of fresh powder is physically demanding and requires good strength, stamina and coordination. Consequently, mountain riding is done with one person per machine. No passengers are allowed. It is not the same as trail-riding, where one can stay seated; in mountain riding the rider frequently stands up and uses his/her weight to steer the machine. Due to the nature of riding and for liability reasons, a minimum age of 19 is required to ride your own snowmobile (or 16 with parents).

Riding a Snowmobile

Your speed is controlled by a thumb activated throttle. Braking is done with one hand while steering takes place through a handle bar. Alpine snowmobiling also requires much steering by active riding position and riders should be in good physical shape.

Riders' Registration, Liability & Insurance

We do our best to ensure the safety and enjoyment of all participants, but since snowmobiling involves known and unknown risks we require all guests to sign an assumption of risk statement and liability waiver prior to tour or rental departure. Waivers are available prior to making your reservation. We strongly advise participants to carry good medical insurance including recovery by helicopter.

Avalanches & Riding Safety

Please note that weather, snow, road and/or avalanche conditions may alter the riding programs and destinations. All of our guides are certified in avalanche safety. For all backcountry tours lasting longer than 2 hours we will provide avalanche safety equipment to guests at no charge.

Damage Insurance

Tours: Optional insurance of $35 per day/tour reduces the deductible from the full damage amount to $1,000 per incident. Please note our detailed rental conditions and excluded damages (fires & tunnels and bulkhead damages). Insurance is subject to applicable taxes.

Clothing

Average winter temperatures range between 0 to -10 degrees C. Full protective clothing is provided by us on all tours. Equipment provided includes a protective snowmobile suit, snowmobile boots and snow cross-style helmet. Please bring the following: gloves, t-shirt & turtleneck, long underwear, warm socks, sunglasses, sunscreen, neck warmer or balaclava. Ski gear works fine for snowmobile tours.