Getting Here By Air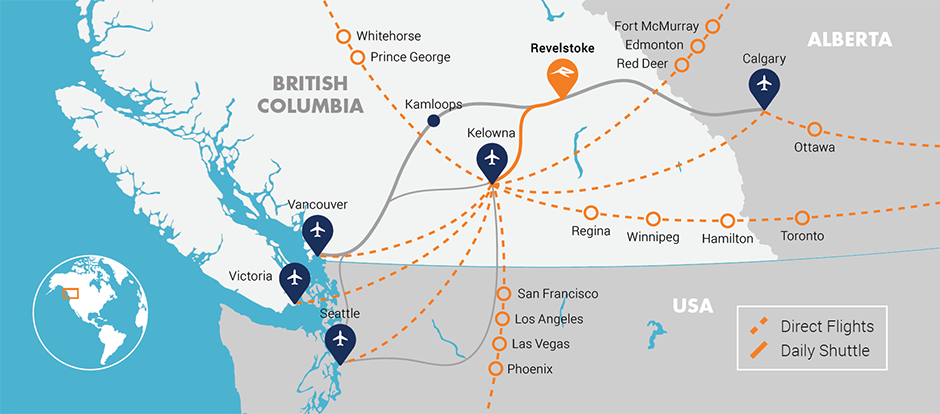 Scheduled regional service with national and international connections is available in the nearby center of Kelowna with ground transport to Revelstoke. International access is available to gateway airports in Calgary and Vancouver, transferring to regional airlines and/or ground transport. Direct scheduled flights to and from Kelowna are also available from major North American hub airports including Seattle, Los Angeles, San Francisco, Toronto, Vancouver, Edmonton, and Calgary.
For information on air travel to Revelstoke from one of these centers please visit one of the following sites:
---
Revelstoke Connection
The Stoke Shuttle – They'll be there to get you here! The Revelstoke Connection offers transfers from Kelowna International Airport to your hotel in Revelstoke. The Revelstoke connection will offer multiple morning, afternoon, and evening transfers starting on December 15, with services fully operational from December 26th onwards. What's more, children under 6 years of age travel for free. The Revelstoke Connection also offers private transfers from many other locations, including Calgary, Vancouver and Banff. Visit Revelstoke Connection for rates and schedules.
---
Revelstoke Airport
Revelstoke's airport has a 1,460-meter paved runway, terminal building, fueling facilities and hangars servicing small planes and helicopters. Charter aircraft and helicopter services are available, with taxi service to town (reserve in advance or call from the airport).
---
Attention: U.S. Travelers
Implemented on January 23, 2007, all persons traveling by air between the United States and Canada are required to present a passport or other valid travel document to enter or re-enter the United States. Please visit the Bureau of Consular Affairs, U.S. Department of State for more information on the Western Hemisphere Travel Initiative.