Snowmobile Tours
Snowmobiling in Revelstoke is all about exploring uncharted terrain and riding deep powder.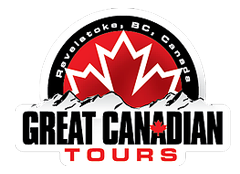 Great Canadian Snowmobile Tours is Canada's premier backcountry snowmobile clinic & rental company. Our guides are meticulously trained in Avalanche safety and awareness and wilderness first aid, and will work with you to perfect your technique and challenge your skill. With over 20 years of snowmobile experience in the mountains surrounding Revelstoke, we have perfected the art of riding.
Whether you book a Revelstoke snowmobile tour, a snowmobile rental, need some gear or just a guide for the day, our company guarantees that you will have an amazing experience whether you're a pro or a novice rider. Check out our sample packages below and contact us for bookings.
Tour
Description
Rate
The Cabin Run
1.5 Hour Tour
In this 1 hour fun tour we take you on the trails up along Frisby Ridge to a lovely cabin overlooking the surrounding mountains. This is a great tour for couples and families looking to get a feel for snowmobiling. Ride as a single or double up, this scenic tour will make you fall in love with snowmobiling.
Details »
The Sledder
3.5 Hour Tour
Looking for an exciting activity with not much time? Then this is where you can experience the mountains on what we call a 'Mountain Sled' and experience the wildness up in the Mountains. The guide will demonstrate how to use the machine, as well as help you carve through the mountains whilst up in the alpine! Although short – it will definitely give you a feel of what the whole of town is talking about!
Details »
Snow Fun
3.5 Hour Tour
This is perfect for those looking for a relaxing half day family fun excursion. Leaving from our other staging area just off the Highway – your guide will give you a brief introduction of the machine, as well as make sure you are comfortable before you head up into the alpine!
Details »
Summit Ride
Day Trip
If you have more time, then this will definitely give you the full experience. Avalanche gear is included, and your guide will demonstrate a few pointers on how to use it, as well as a brief demonstration. You will leave to go onto Frisby Mountain where your experienced mountain guide will take you to wide open meadows and show you what these 'Mountain Sled' can do, as well as give you a few pointers!
Details »

Cancellation of Tours

Tours can be cancelled without charge up to 24 hours prior. For cancellations within 24 hours or on the day of your tour departure, a $50 admin fee will be charged.

Riding a Snowmobile

Your speed is controlled by a thumb activated throttle. Braking is done with one hand while steering takes place through a handle bar. Alpine snowmobiling also requires much steering by active riding position and riders should be in good physical shape. Due to the nature of riding and for liability reasons, a minimum age of 18 is required to ride your own snowmobile (or 16 with parents and valid driver's license / snowmobile license).

Riders' Registration, Liability & Insurance

We do our best to ensure the safety and enjoyment of all participants, but since snowmobiling involves known and unknown risks we require all guests to sign an assumption of risk statement and liability waiver prior to tour or rental departure. Waivers are available prior to making your reservation. We strongly advise participants to carry good medical insurance including recovery by helicopter.

Avalanches & Riding Safety

Please note that weather, snow, road and/or avalanche conditions may alter the riding programs and destinations. All of our guides are certified in avalanche safety. For all backcountry tours lasting longer than 2 hours we will provide avalanche safety equipment to guests at no charge.

Damage Insurance

Tours: Optional insurance of $35 per day/tour reduces the deductible from the full damage amount to $1,000 per incident. Please note our detailed rental conditions and excluded damages (fires & tunnels and bulkhead damages). Insurance is subject to applicable taxes. Optional insurance is included in all short tours with the exception of the Summit Tour.

Clothing

Average winter temperatures range between 0 to -10 degrees C. Full protective clothing is provided by us on all tours. Equipment provided includes a protective snowmobile suit, snowmobile boots and snow cross-style helmet (no goggles or gloves). Please bring the following: goggles, gloves, t-shirt & turtleneck, long underwear, warm socks, sunglasses, sunscreen, neck warmer or balaclava. Ski gear works fine for snowmobile tours.
Visit Great Canadian Snowmobile Tours' Website
---