Introducing RFID Access
Reload Online »
Your Season Pass, Vertical Card, or Lift Ticket is now equipped with a RFID chip. This means no more fumbling with your Pass or Ticket when trying to board the Gondola.
What is RFID?
RFID stands for Radio Frequency Identification Device. The "device" is a small chip that is integrated into your ticket or pass. The chip contains information pertaining to the lift product you have purchased and tells our scanning system that your ticket or pass is valid. When you approach the access gate, your RFID chip will register and open the gate automatically. It's that easy!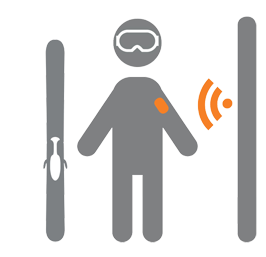 RFID Dos and Don'ts
DO

place your pass on your left hand side in a secure jacket pocket.

DO NOT

place cell phones, credit cards, foil or other RFID Cards in the same pocket as your pass.

DO NOT

hole-punch your ticket or pass. Hole-punching your pass will damage the RFID antenna.

DO NOT

throw out your pass. You can reload additional days or products onto an existing pass by visiting our online store.
---

Already Equipped With RFID?
Need to add more days onto your existing RFID lift pass? Save time & reload online.
---
Frequently Asked Questions
Do I need a new Season Pass or Vertical Card?
If you have an existing Revelstoke Mountain Resort RFID card, your new 19.20 Season Pass or Vertical Card can be loaded onto your existing card to avoid a $5.00 card fee.
---
What information is stored on the RFID Pass?
Our RFID Passes do not store any personal information, beyond what is printed on the Pass. The RFID chip contains a randomly generated number that is associated with your account in our secure database.
---
Where will the RFID gates be located?
For the 2019/20 season, gates will be located at the Village Base and at the mid-station of the Revelation Gondola.
---
Will my RFID Pass interfere with my other RFID products?
No, however your Revelstoke RFID Pass should be placed in a pocket by itself to ensure strong connectivity. Each RFID Pass chip is unique and specific to a particular database. Other RFID products will not work at Revelstoke Mountain Resort and vice-versa.
---
Can a magnet destroy my RFID chip?
No. Magnets have no effect on the RFID chips.
---
Will RFID interfere with my cellphone or other wireless technology?
No. Your phone should be kept in a separate pocket to prevent interference from our scanners, but there is no risk of interference with your mobile device.
---
Will my RFID Season Pass or Vertical Card still have a photo?
No. Since you will not need to physically show your Pass at the lift, there is no need for a photo on the Pass. That said, you will still be required to have a photo on file. Each time you are scanned at the gate, a lift attendant will verify your identity using a tablet that shows your colour photo.
---
Can a RFID chip survive a trip through the washing machine or dryer?
Yes. Although not recommended, RFID chips are designed for multiple years of "wear and tear, including the odd rinse cycle.
---
What do I do if I lose my RFID Pass?
Notify Guest Services immediately and they will deactivate your Pass. New Passes can be printed at a cost of $5 for a Lift Ticket or Vertical Card and $25 for a Season Pass (heavier stock).
---