10 Jaw-dropping January Moments at RMR
January 30 2020
Even without the powder highs and temperature lows, this January has certainly been one for the books. Check out our standout moments from 2020 so far.
January 1: Big Night, Bigger Storm.
In came the snow and out went the hangover. New Year's Day brought us 30 cm of champagne powder and, as a result, we experienced one of our busiest days on record. But the Resort wasn't the only place getting hammered by snow – downtown Revelstoke was stuck in the thick of it, too. Vehicles buried in driveways, manic shovelling and pedestrians literally wading through waist-deep snow are just glimpses of the scenes that unfolded during the "powpocalypse".
See full photo gallery here »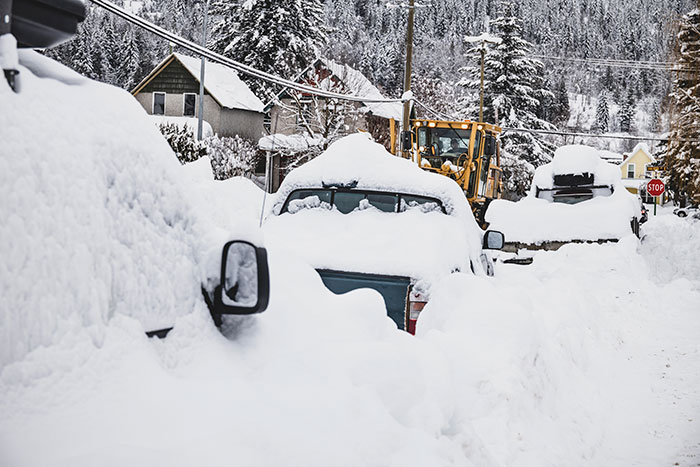 Photo: Hywel Williams
January 4: This is Revelstoke Pow Town.
Just a few days later, the RMR season snowfall total hit 5.4 metres (17.8 feet). That's over half of our annual average, less than 1.5 months into the season. This parked us in position #3 for snowiest winter on record at the Resort... and we're not showing any signs of losing pace. If you couldn't be here to sample the goods yourself, check out some of our local athletes shredding our favourite pow-day runs and get a taste of what it's all about.
January 8: 43 cm of Snowfall in 24 Hours.
Mother nature gave us just enough time to catch our breath before she buried us under another 43 cennies. While Revelstoke residents were understandably choked up about their driveway's vanishing act, we were feeling pretty content with this fresh carpet of white.
January 9-10: We Witnessed Some Big-time Bails and All-time Runs at the FWQ Events.
Over a hundred eager competitors flocked in to compete in the International Freeride World Qualifier (FWQ) 2* and 4* events held on Separate Reality and in the North Bowl. The competition was characterized by big air tricks, big lines, and even bigger bails. Watch our nail-biting recap video to get a glimpse of how it all went down.
January 11: 2020 Started to Measure Up; We Reached 20 Feet of Snow.
At this point, we're sure you're starting to get the picture. But here is another picture, just in case.
Historical Snowfall Tracker »
January 13: It Got Cold. Really Cold.
Equally unexpected as it was unwelcome, this cold snap brought temperatures as low as -39°c (with the wind chill) in the alpine. On January 13, we were unable to operate even the lower lifts in the morning due to high winds. Luckily the temperatures didn't plummet for too long – we were back on track and by later that week!
January 16: We Watched SkierCam Drop This Huge Cliff on Gracias Ridge.
Legend has it that this drop on Gracias Ridge goes by the name of "Disqualifier". We wouldn't know, because ⁠– quite frankly – most of us mere mortals would steer clear of that thing like the plague. So, when an athlete shows the talent and cahonas necessary to send the thing, well, you just have to give that rider a pat on the back and firm high five. Kudos to you, @skiercam.
Watch the video on Instagram »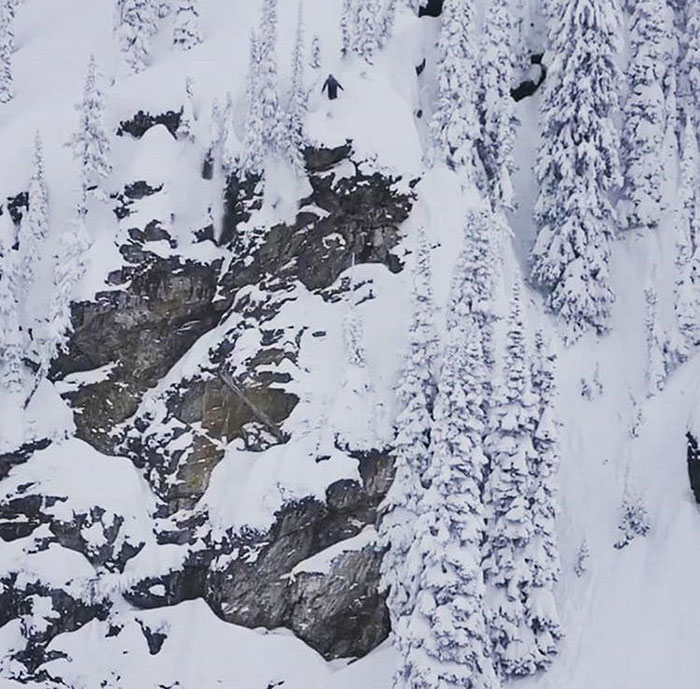 January 22: We Reached 7 METRES of Snowfall.
We're not sure if we remember what the sun feels like on our skin, or what colour the sky was before it was flat white – because for the entire month of January, it has just not stopped snowing. So much so, that we reached a whopping 7 metres of snowfall only two months into the season. So, yes, we're still sporting those giddy smiles.
January 23: We Showed Social Media What 7 Metres Looks Like.
We can keep telling you how deep it is, but sometimes a photo speaks a thousand words…
See Instagram post »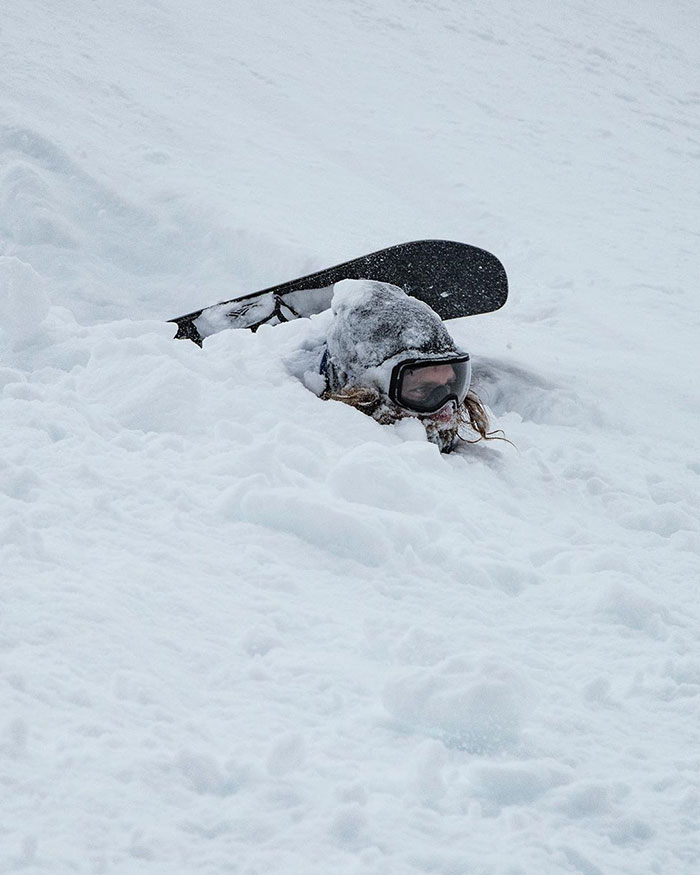 January 31: That's a Wrap.
OK, so we can eat our words a little about the sun not making an appearance in January. It came out, for a few minutes, and it was glorious. There's even proof:

---