60cm of Snowfall in the Last 7 Days
December 21 2017
Ski Top to Bottom as of Saturday, December 23.
Christmas has come early at Revelstoke Mountain Resort. The Resort received 60cm (2 feet) of snowfall over the last week which has significantly improved the snowpack at lower elevations. Our Mountain Operations team has also been hard at work to prepare terrain in the Turtle Creek Beginner Area and the ski-out to the Village Base. As of Saturday, December 23, Revelstoke Mountain Resort will be open from top to bottom, providing skiers and riders with access to the Most Vertical in North America – 5,620 vertical feet!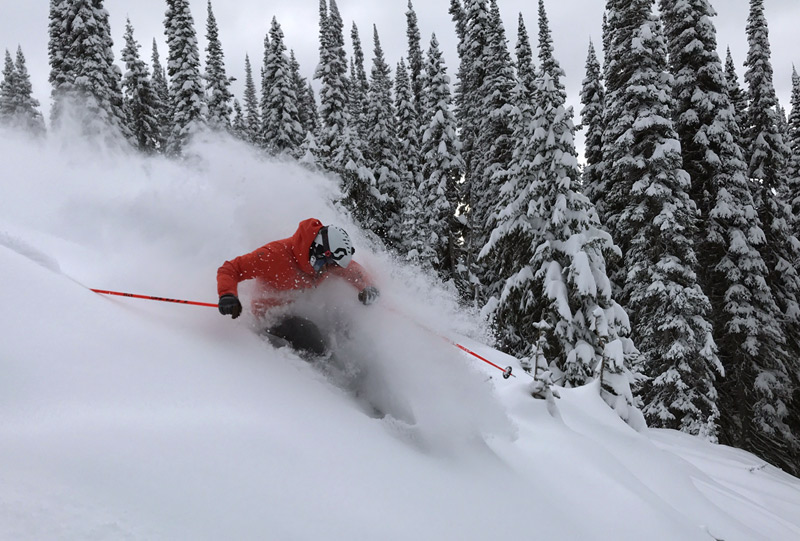 P: Miles Clark | Snow Brains
Spending the Holidays in Revelstoke?
The holidays are a time for celebration. A time to get together with family and friends to share moments of laughter, relax, and have a bit of fun. To help bring everyone together, we have lined up the following list of Holiday Events:
December 23-31: Complimentary hot chocolate and bonfire in the Village Plaza from 4:30pm – 6:00pm.
December 24: Christmas Eve Block Party Bash, hosted by Everything Revelstoke in downtown from 3:00pm – 6:00pm.
December 25: Ski with Santa at Revelstoke Mountain Resort from 10:00am – 12:00pm.
December 28: Rail Jam in the Village at 5:30pm, brought to you by R Gear.
December 31: New Year's Eve Extravaganza. Three parties, one ticket! Celebrate the New Year with this unique party, featuring three distinct venues, each with its own ambiance and live entertainment.
December 31: Fireworks Display. There will be a family friendly show at 7pm, followed by another display at midnight.
Book Your Vacation with Confidence
Revelstoke is the ultimate ski destination. If you live for snow, welcome home. Revelstoke holds the Canadian record for snowfall at 80 feet, and the Resort's slopes are blanketed in an average of 30-45 feet of powder every winter. Book your ski vacation with confidence knowing that snow is likely in the forecast!
---