Crushing One Million Vertical Feet
March 28 2017
While Chris Pawlitsky will be the first to admit he's no Greg '2 Mill' Hill, he's managed to set himself up to reach a lofty goal: skiing one million feet of lift accessed vertical at the resort this season.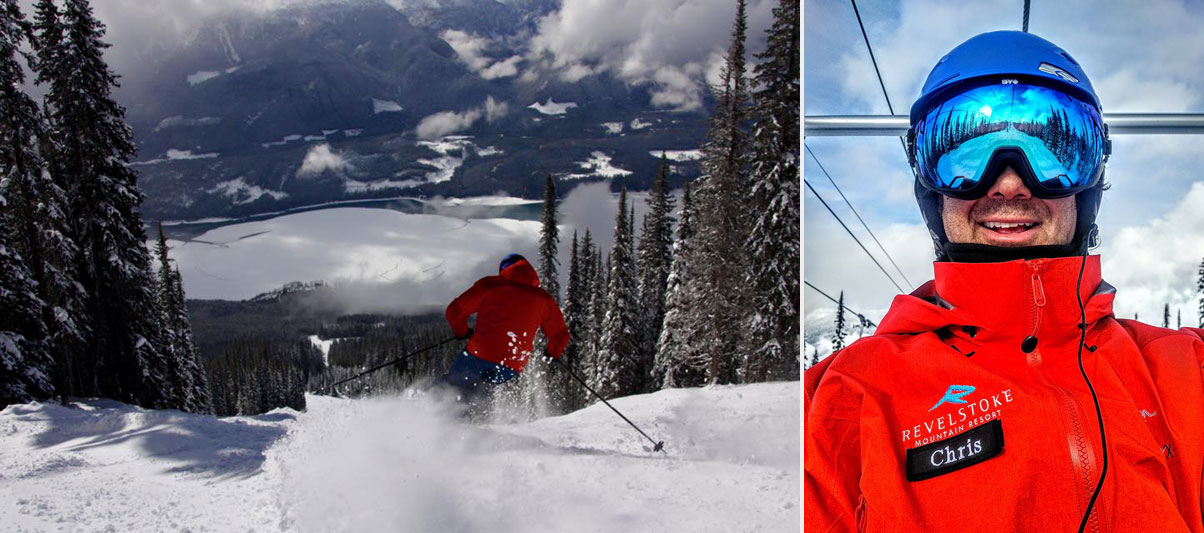 Photo: David Windsor
He's a ski bum – but not in the traditional sense of the word. Unlike most "serious" ski bums who often quit their jobs or work night shifts to support their powder habits, Chris works full time as an engineer for CP Rail. He's also bouncing back from a serious neck injury from last ski season and works as a Mountain Ambassador for Revelstoke Mountain Resort. Needless to say, he's got a lot on the go and he's managing to crush some serious vert in his spare time.
We caught up with Chris between Stoke Chair laps to ask him a few questions about his ambitious goal and ski life in general.
How did the goal come about? What made you decide to try to ski one million feet?
I have an app installed on my phone called Ski Tracks. It records speed, vertical, etc. Every year I get around 800,000 feet at the end of the season. So this year I thought I would give it a more serious effort to get one million. Greg Hill was a big influence for sure!
What is your favourite run/or zone and why?
Separate Reality because the snow and the pitch are so good, and it's quick and easy to get back to the Stoke Chair to bang off more laps. There are so many different lines to choose from in there.
Let's do the math. How many days have you skied this year, and how many feet do you need to average to reach your goal?
50 days at 20,000 vert a day. So that means about 8 runs, then a top-to-bottom lap. I pretty much had to ski every day I had off work to reach the goal.
Friends or no friends on a pow day?
That's easy…solo!
We hear you had an accident last year that set you back quite a bit. What happened?
I dropped into Separate Reality, Super G turns, got going way too fast, tried fighting the tips from diving and BAM! I went from 45 mph to 0 mph in five feet. My tips dove, I slammed down, and my body "scorpioned" over. I managed to ski down and went to work later that day. I even went skiing with my wife a few days later, but after a couple of days the pain was almost unbearable, so I decided to go to the doctor. He sent me for a CT scan in Salmon Arm, and I found out I snapped 3 vertebrae in my neck.
Did you grow up skiing in Revelstoke? How many years have you been on planks?
Yes, I've been skiing here for 43 years.
Any good stories you want to tell about skiing Mt. Mackenzie before the resort opened in 2007?
There are too many! Night skiing on the old T Bar; skiing the first descent down Brown Shorts (my buddies and I named it!); and guiding with the gang for Clyde at CAT Powder Skiing which was the old cat skiing operation before the resort. Those were some of the best times of my life.
---