Free Valentine's Day Weddings
February 15 2017
Love was in the air on Valentine's Day at RMR as local couples tied the knot or renewed their vows for free at the top of the Revelation Gondola.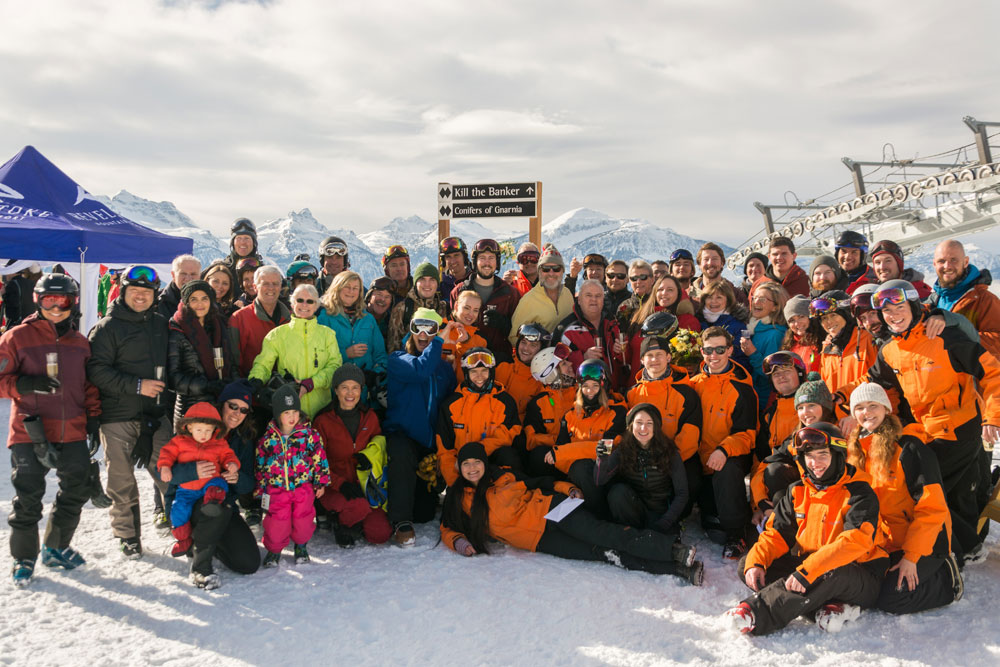 "This is the third year in a row we've held wedding ceremonies up here," said Ben Taylor, Events Coordinator for RMR. "It really seems to be catching on with local couples, and it's a great way to keep things simple to celebrate with friends and family."
A wedding at the resort was the perfect setting for John Hill and Julie Hamel, long-time ski instructors and Revelstoke residents. "The day was all about love: Julie, family, friends, and the mountains," said John.
Marriage Commissioner Patti Matsushita conducted short but heartfelt ceremonies beneath a simple alter with the Monashee Mountains and Columbia River framed beautifully in the background. A total of 14 ceremonies were held throughout the afternoon as six couples were wed and seven renewed their vows. The ceremony itself was free, but couples were required to buy a marriage licence from the Court House for $100 beforehand. All couples were treated to cupcakes and champagne compliments of the resort after signing the registry.
"While other girls dream of traditional weddings, a special day on the mountain is what truly made me smile. John had been secretly planning the day since the summer, and I had no idea," said Julie. "It wasn't until my parents showed up on the Wednesday prior that he asked my father for my hand in marriage and if I would accept!"
For all those who were part of the celebrations, it was a chance to raise a toast to the important things in life: friends, family, and fresh mountain air.
"The beautiful tradition of weddings on the mountain on Valentine's Day was perfect for us. The setting is stunning, the planning simple. All we needed to do was invite our friends, set-up a live-feed for the out-of-towners, pick-up flowers, and get snacks & champagne because we like to share the love. We'd like to thank the Snow School crew who helped out and everyone else for joining in on the celebration."
- John Hill and Julie Hamel
---