Holiday Gift Guide: Our Top 10 Picks
December 17 2020
Wondering what to buy for your loved ones this holiday season? Well, look no further than your own backyard.
This season, R Gear (our slopeside retail store) is giving local, Revelstoke creators front and centre stage in the store. From hand-poured, naturally-sourced board wax, to logo gear designed and printed here in town, we're serving up a slice of Revelstoke that you won't find anywhere else. And, even though some of you can't be here this winter to slide on snow with us, we hope that our unique souvenir collection (available for mail-out) will provide you with a little piece of Revelstoke to treasure, close to home. We've hand-picked our top 10 gift ideas to keep you stoked for this winter, and for the many winters to come. Here goes...
1. Turbo Bambi Beaver Wax Vs. Gnorm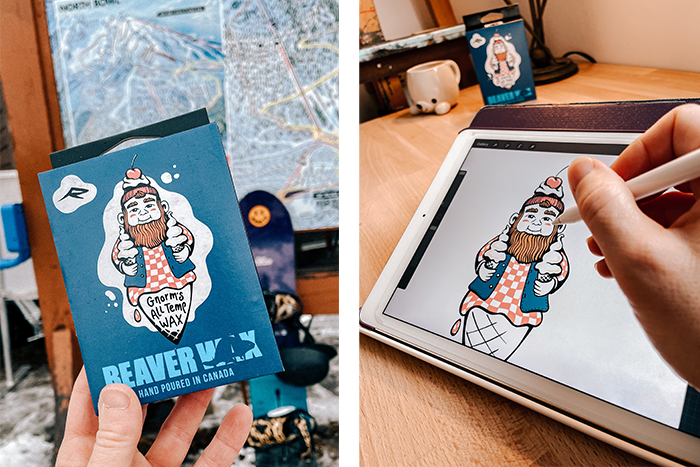 "My favourite part about illustration is how you can literally draw anything you want. It doesn't have to be real, it can be straight out of your imagination. In my opinion, the weirder it is, the more interesting. For this collab, the idea was to make our good ol' Gnorm (read his story) hold two little ice cream cones—because that's what it looks like when he's all covered in snow. And why not make him into a snack while we're at it, because anything's possible from the tip of that pencil. " – Turbo Bambi.
If that isn't enough to make you try this all-temp wax, well, how about the fact it's environmentally friendly, PFC free, and even smells like vanilla ice cream? Pick this up for $14.95 CAD.
2. Board Butter Wax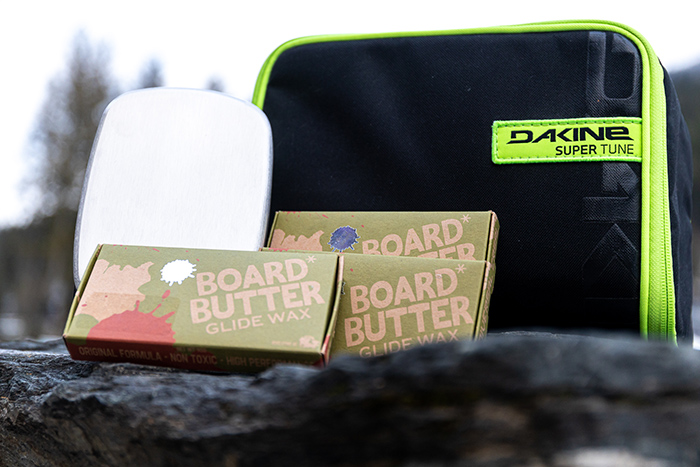 Board Butter Glide Wax (starting at $11.95 CAD per bar) is hand-poured in Revelstoke and made with locally sourced paraffin. Board Butter doesn't include any harmful additives or fluorocarbons, so you can feel pretty good about doing the right thing by 'ol mother nature, too. Oh, and did we mention it smells good enough to eat?
3. Revelstoke Stickers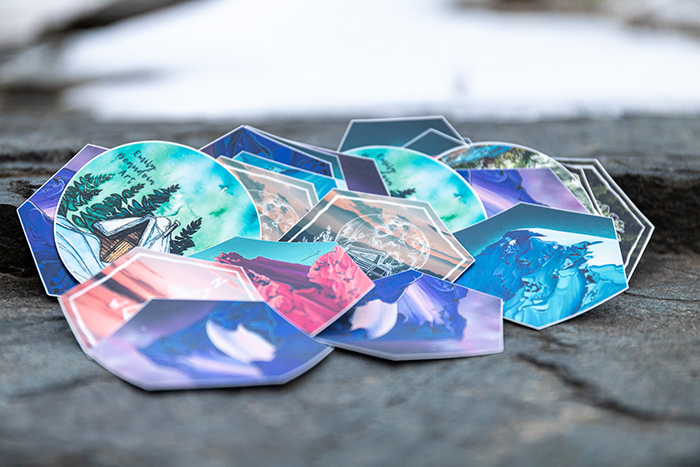 Everyone loves stickers and we're sure that's a universally known fact. These unique stickers - featuring artwork from local artists Hayley Stewart, Emily Beaudoin, and Turbo Bambi - will instantly transform any water bottle, coffee thermos, or phone case - all for less than $6 CAD.
4. Custom Goggle Socs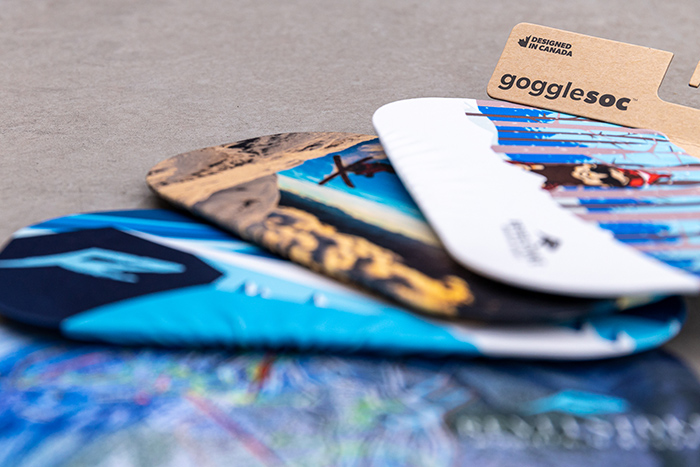 A 2020 take on the classic "socks" stocking filler, let us present to you: the Goggle Soc ($14.95 CAD). Perfect for that friend with the shiny new goggles (protects from scratching), or maybe the not-so-shiny goggles (they also serve as a great cover-up). Choose from a multitude of custom Revelstoke designs and colours.
5. Branded Stanley Drinkware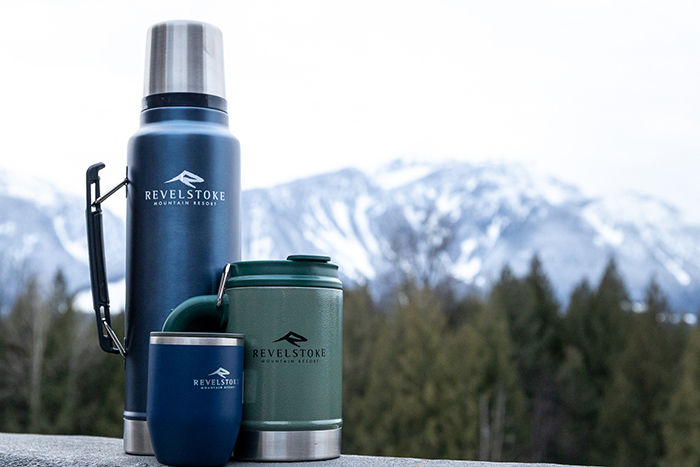 Buying for a family? How about a matching family of RMR logoed Stanley Flasks, in every size, for every occasion? Done. Insulated flasks starting at $35.95 CAD.
6. Knits from Head to Toe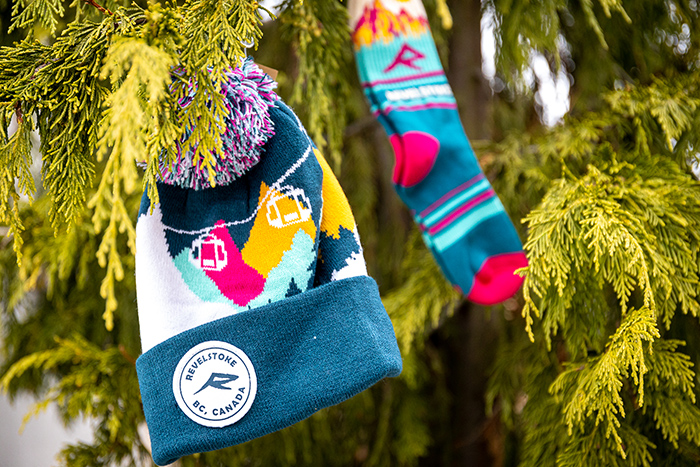 R Gear carries a wide selection of organic cotton t-shirts and hoodies that are printed and designed in B.C. (in fact, 80% of them are designed and printed here in Revelstoke, by Integrated Apparel). The result of these partnerships is a huge range of custom souvenirs that you will not find anywhere else in the world, let alone in other Revelstoke stores! Socks starting at $12.95 CAD, Toques $19.95 CAD.
7. Custom Amber Headwear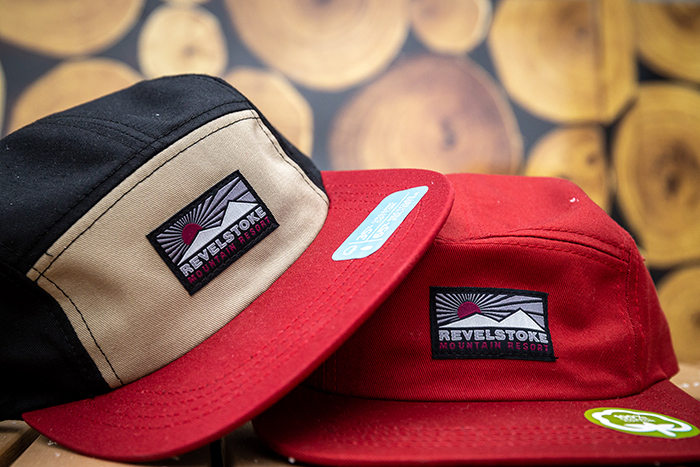 5-panel lovers, rejoice! These one-of-a-kind logo caps are made of 100% organic cotton, and are designed and printed in Nelson, BC. Ambler Headwear starting at $39.95 CAD.
8. Logo Wear, Feat. Olly Hogan Design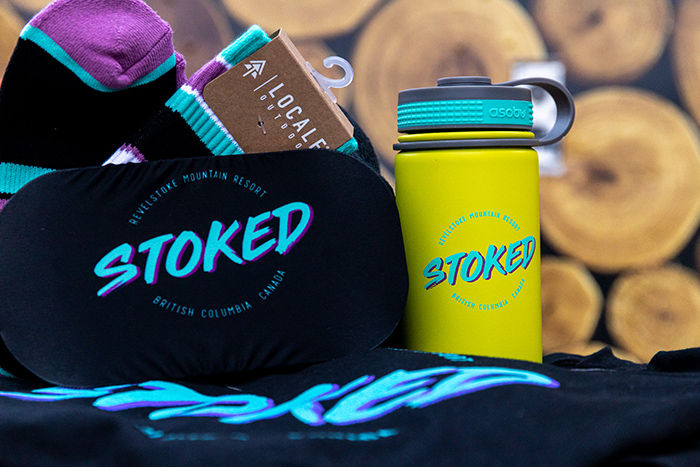 R Gear stocks a selection of original logo gear from Revelstoke-based designer and photographer, Olly Hogan. Logo gear starting at $1.95 CAD.
9. Christmas Greeting, From Revy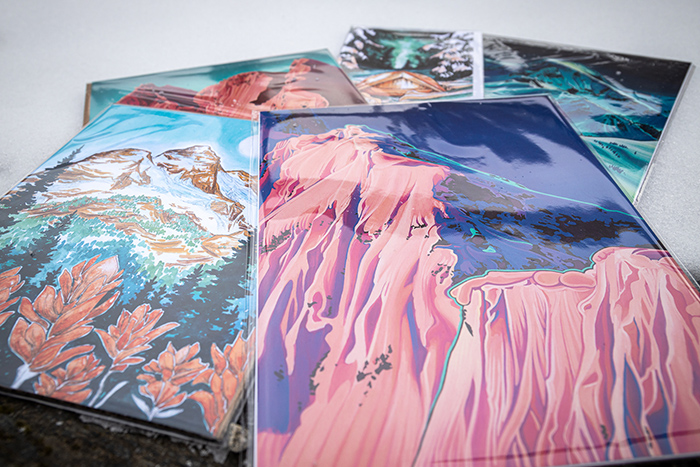 Send a piece of the mountains to a loved one through Christmas and beyond, with our selection of cards featuring artwork produced by Revelstoke artists. Cards available from: Begbie Studios, Hayley Stewart, Turbo Bambi, Emily Beaudoin, Vanessa St-Yves.
10. The Gnorm Family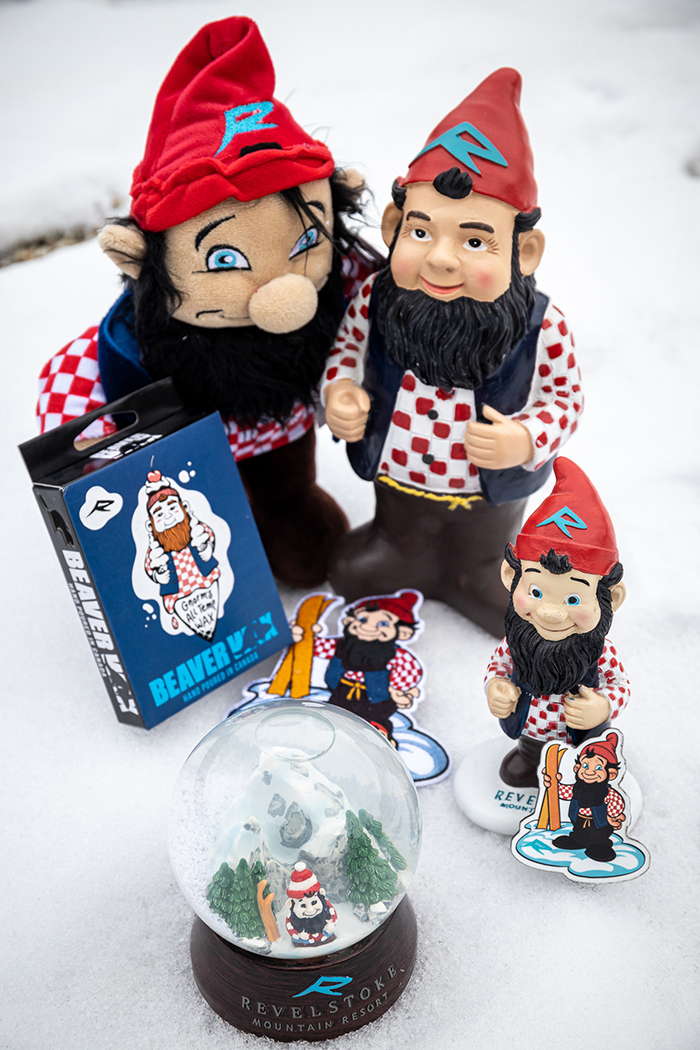 'Tis the season to be jolly... and what says jolly more, than a whole squad of Gnorms? From magnets, to snow globes, to full resin replicas, we hope to satisfy your snow-reporting-gnome needs. Pop in store to see the full selection.
Photos: Hywel William
Contact Retail
[email protected]
1.250.814.5020
---
Shop Local: A Revelstoke Holiday Gift Guide
This year, it's more important than ever to support our local retailers. Downtown Revelstoke is full of great shops that offer a range of unique products.
Shopping
Short on gear? We've got you covered with two retail stores selling everything from hard goods to souvenirs.
---