Level Up: 4 Ways To Improve Your Skiing or Riding
February 27 2020
At this point, we're sure you've caught word of Revelstoke's bottomless powder, wide-open bowls and steep groomers – and, well, the rumours aren't wrong. But what makes Revelstoke appealing, can also be what makes it daunting. Whether you're a seasoned RMR local or an eager skier just passing through, here are four steps you can take to level up your skiing or snowboarding game, to contend with our famous steep, deep terrain.
Level 1
Sign Up for First Tracks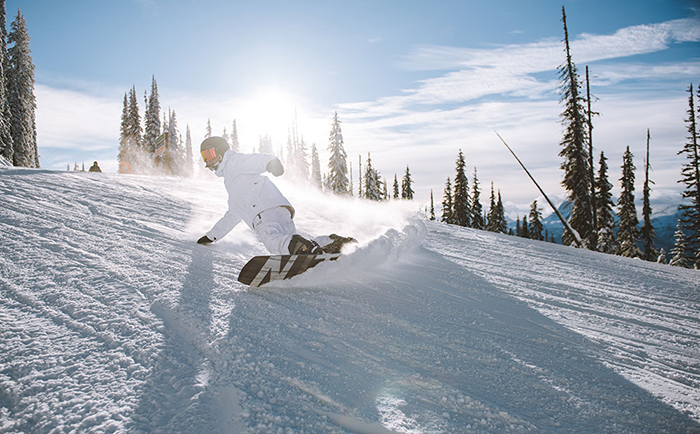 P: Josh Dooley | A: Jesse Millen
Although we try our best, it's not always possible for us to know whether mother nature will be cooking up a storm or serving up sunshine and cord. What we can guarantee, though, is that with our First Tracks and First Tracks Breakfast Club programs, you'll be carving fresh tracks down whatever she churns out. You will have the opportunity to rip down groomers (and in the glades, where possible) before the lifts open to the public. Whether you're into navigating technical glades or flying full speed down freshly groomed runs, you'll be led into the best zones of that morning by one of our seasoned Pros.
Level 2
Complete a Cat/Heli Prep Course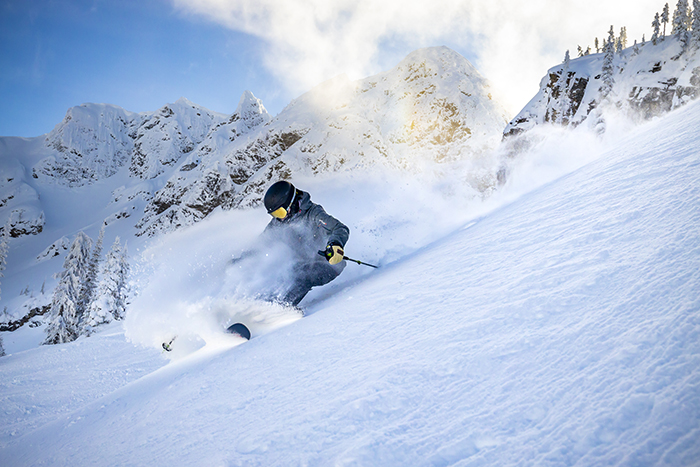 P: Hywel Williams | A: Saga
Not your regular "line up and listen" lesson, our Cat/Heli Prep program is specifically tailored to guide small groups of riders through technical steeps and trees. Your Pro guide will show you how to pick a line through the trees and conserve energy while making turns that adapt to the terrain. This program will show you how to make the most of every run to ensure that you are well prepared for your Cat or Heli-skiing experience (or future plans to go). A minimum level 5 ability is required, but if you're still interested and not quite at that level, why not hop onto one of our private or group lessons to catch you up to speed?
Level 3
Go Cat Skiing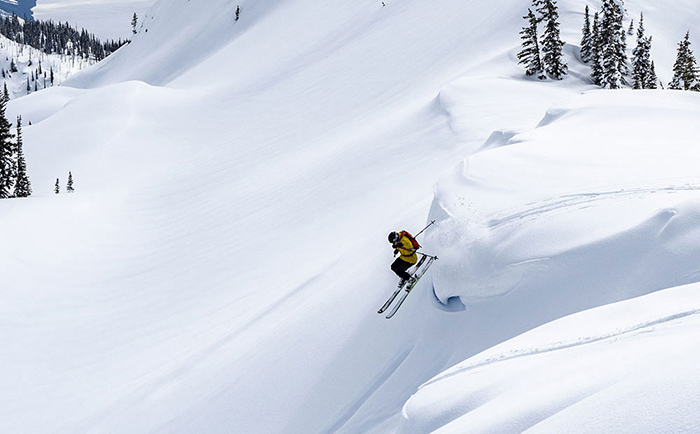 P: Tom Poole
It's time to take the skills you've learned on the Resort out into the wilderness. Picture "First Tracks", but this time, imagine 50 ft of annual snowfall, spread across two mountains, with 75 square kilometers of skiable terrain. Mouth-watering, right? The best part about your cat skiing experience is that you can forget about watching the clock or counting runs; you, your crew and your guide, will be skiing until your legs give in and will be setting the pace for your own adventure. There's still space available in March this season, so make sure you book your spot before it's too late!
Level 4
Go Heli Skiing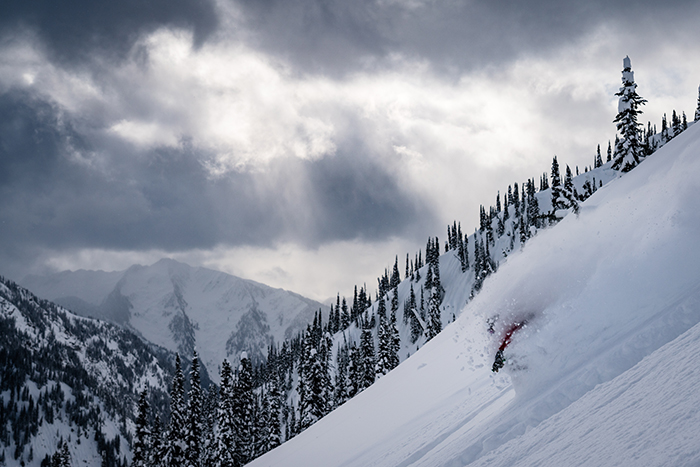 P: Lindsay Donovan
You've reached the crème de la crème of powder. If you've made it this far through our suggested progression route, you're probably ready to take your skiing/riding to new heights (quite literally). Get deep into the 500,000+ acres of wide-open glaciers, alpine meadows and massive old-growth forest that Selkirk Tangiers has to offer. Picture that amazing first powder day run in North Bowl, then imagine doing that over and over again. Not only will you have the opportunity to progress your powder riding, but you'll also experience big mountain terrain and ride steep lines all within a managed environment with certified guides. There's still time to play in the powder playground of the Selkirk mountains this season—call to book your seat for March or April 2020.
---
Book Now
First Tracks Breakfast Club »
Cat/Heli Prep »
Selkirk Tangiers Heli Skiing »
Great Northern Snow Cat Skiing »

---