Meet Some of the Women on RMR's Ski Patrol Part-1
February 05 2021
This is a 3-Part Series highlighting some of the women on patrol, how they got into the business and what they love about it.
Words by Matt Coté
Shasta Coombes balances stoicism and empathy in her career in the mountains.
Ropes and climbing hardware dangle from the rafters in the warming hut atop Revelstoke Mountain Resort on a cold December day. Usually open to the public, this year the patrol team is using it as its own, as a means to keep physical distance between themselves during the Covid-19 pandemic while remaining ever stalwart at the top of the resort.
There, Shasta Coombes, a 28-year-old, four-year veteran of the RMR patrol, instructs two rookie patrollers (masked, of course) how to self-evacuate from the gondola—a critical skill for the mountain safety team, whom many forget isn't just made of talented skiers that throw avalanche bombs, but also first responders. During the pandemic, that makes them frontline workers, facilitating one of the few precious liberties we still have by virtue of it being outdoors: skiing.
For Coombes, helping provide that outlet for people has been a lifeline of her own, giving her a family of peers to work and socialize with during an otherwise isolating time in the world.
"I love the social aspect of it," she explains, "getting to work outside with a bunch of people I have a bunch in common with. I feel especially blessed with that during Covid. Lots of people don't get to have that kind of rapport in their daily lives anymore."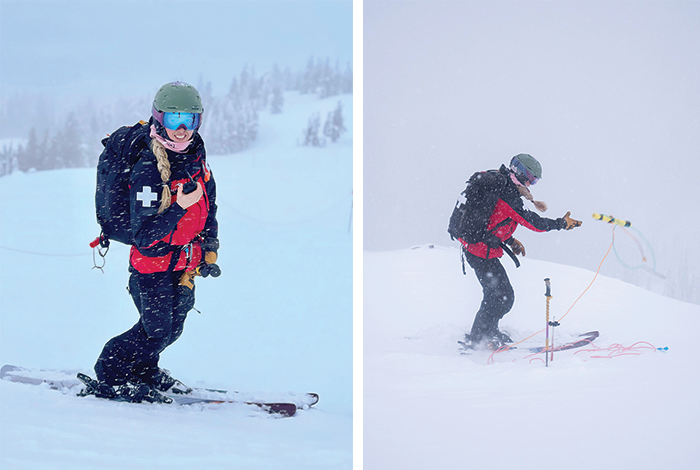 Growing up in Invermere, B.C., Coombes started her career at Panorama Mountain Resort, but was drawn to RMR by the backcountry culture of the place. Here she found a community of mentors to teach her hard mountain skills that also translate to ski touring, climbing and mountaineering—her passions. Since then, her time on patrol hasn't just bolstered her abilities, but also her overall poise as a person. She's now working on bigger goals like her Avalanche Operations Level 2 certificate.
"I think I'm a much more confident and assertive person than I was before I started patrolling. You really need to take charge of situations, you don't have any choice. That's a part of my brain I didn't have to use before, and I think that's helped me in a lot of aspects of my life."
Coombes says that much of the lighthearted culture that makes patrolling so fun doesn't just come from the joy of skiing, it's also a natural counterbalance to the really serious moments on the job.
"Seeing people in their moments of greatest need can be super heavy sometimes," she explains. "As much as it's a bit of a stoic industry at times and showing emotions is sometimes frowned upon, I think when it really counts patrollers are good about it and really supportive."
That's a bond few people get to share in the workplace, and a truly rewarding dynamic—making a positive difference in people's lives in your own style.
"I do work in a male-dominated industry, but I think RMR's great for trying to keep the numbers even. I think maybe we women bring a bit more empathy sometimes, compared to our male counterparts. Which I think is a super important part of the job."
Watching Coombes command the slopes with her edges, her softer side certainly remains obscured by the power of her turns. But it comes out when she needs it.
<iframe width="560" height="315" src="https://www.youtube.com/embed/hn_hVuaAbYY" frameborder="0" allow="accelerometer; autoplay; clipboard-write; encrypted-media; gyroscope; picture-in-picture" allowfullscreen></iframe>
---