New Mountain Coaster for 2016
September 10 2015
Get ready for a wild ride!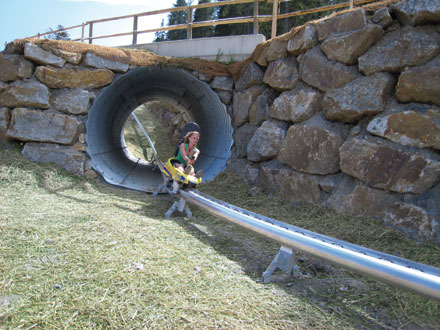 A Brandauer mono-rail mountain coaster in Europe
We are thrilled to be expanding summer operations for 2016 with the addition of North America's first Brandauer Mountain Coaster.
Starting at Revelation Lodge, the unique single-track coaster will travel 1.4 km and drop 279 vertical metres while speeding through ski runs, glades, and a tunnel before ending in the resort village next to the Revelation Gondola base.
Unlike the more common dual-rail mountain coasters, the Brandauer design features a mono-rail which is built close to the ground and simulates the thrill of downhill mountain biking as it travels at speeds up to 42 km/hr.
The Brandauer mountain coaster brand is the established leader globally with 35 coasters in 11 countries.
The coaster will be an exciting addition to our current lineup of summer activities which includes breakfast and sightseeing via the Revelation Gondola and Heli Adven­tures with Selkirk Tangiers Heli Skiing.
Construction will be completed in spring 2016 and the coaster will be operational for the summer season.
---