New MTB Trails Set To Open This Summer
May 25 2022
On June 4th, the lifts start spinning at Revelstoke Mountain Resort. In addition to the opening of the Pipe Mountain Coaster, we are excited to open the lower mountain for mountain biking. Our Trail Crew has been hard at work through the fall and spring to expand our trail offering and buff out our existing trails.

On June 25th, the Upper Gondola will open to provide access to the trails from Guilt Trip down. In addition to a significant amount of maintenance work, our Trail Crew has also constructed two new blue tech trails on the upper mountain. Here's the full breakdown of the new trails that are slated to open at Revelstoke Mountain Resort this summer:
---
---
Lower Mountain | Opens June 4, 2022
Salad Fingers | Green Flow, 4.1km
Salad Fingers can be described in one word, FUN. At just over 4km in length, this green trail weaves its way through lush temperate rain forest, featuring cruisy berms, a mellow grade, and wide bridges on the way down.
The Big Easy | Blue Tech, 1.6km
An old Revelstoke classic. Formerly an unsanctioned trail, The Big Easy will be absorbed into the Resort's MTB trail network for this summer. This blue tech trail can be accessed after a short, 1km climb up Take It Easy, which leads to an exciting descent on the southern slopes of Mount Mackenzie. The Big Easy rejoins Salad Fingers for access to the rest of the lower mountain network.
Dirty Sandwich | Blue Tech, 0.2km
Dirty Sandwich is a short, but sweet section of blue singletrack that connects Salad Fingers to Fifty Six Twenty or End Game. This trail was derived from a previous section of unsanctioned trail but rebuilt to optimize the terrain.
Dust Punk | Black Tech, 0.6km
Dust Punk has quickly become a staff favourite. This black tech trail features a bit of everything, all crammed into a 600-metre trail. Riders can expect a steep pitch, woodwork, slabs, drops, loam, and even a couple of machine-built jumps.
End Game | Black Flow, 2.3km
Although End Game is not a new trail for this summer, we have made some notable changes. We've replaced the high speed straight sections with more jumps, tables, shark fins, and a wallride, to create a proper black jump line on the lower mountain.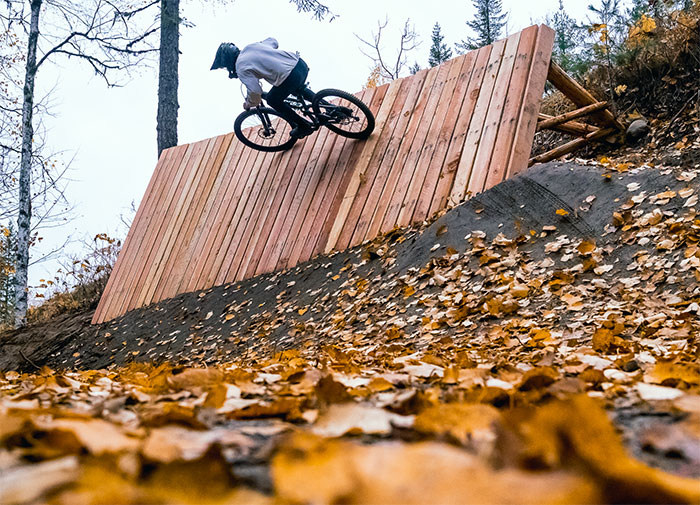 End Game | Photo: Hywel Williams, Athlete: Keenan Kovacs
---
Upper Mountain | Opens June 25, 2022
Macht Schnell | Blue Tech, 1.0km
Macht Schnell is a blue singletrack trail that winds its way through the scenic Aspen Glades above Revelation Lodge. German for "Hurry Up", Macht Schnell will have you pushing your limits with this technical descent. Rated as a blue trail, this trail is suitable for strong intermediate to advanced riders and is considered a good stepping stone toward black technical trails.
Doomsday | Black Flow, 2.0km
High on the priority list is the extension of Doomsday to connect with Bagful of Boogie. Approximately 1.0km of additional trail will be added to Doomsday to create a complete black flow trail on the upper mountain. The timeline to complete this extension is dependent on a multitude of factors, but our intent is to get the extension open for riding in July.
---
In addition to the creation of the new trails listed above, our Trail Crew is also committed to the ongoing maintenance of our trails. As we continue to expand our network, we will need to close sections of trails when maintenance is required. Please abide by any trail closures as they arise, and remember that trail features can change regularly. Don't forget to RIDE SMART: Pre-Ride, Re-Ride, Freeride.

See you on the trails!
---