Open Top to Bottom November 29
November 27 2014
There's powder on the menu this Opening Weekend!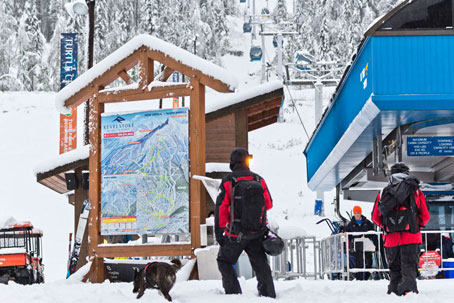 Patrol and Lift Ops prepare for Opening Day
With over 270 cm of snow already, and a further 30-40 cm forecast before opening day, the 2014/15 season will be kicking off with a base of over 115 cm and plenty of powder to go around.
"Things are looking awesome! With all the new snow we'll be opening top to bottom, giving skiers and snowboarders access to all 5620 ft of vertical," says Mike Verwey, Mountain Operations Manager.
"Looking at the forecast, what's going to make this even better than past opening days is that we're going to have amazing visibility… after all the snow comes down, it's going to clear up and be bluebird for Saturday."
One hundred per cent of the high speed lifts on the mountain will be operational for the first day of the season, giving skiers and snowboarders access to all inbounds terrain except for Upper North Bowl and Greely Bowl.
With all that untouched powder being served up, Steve Bailey, Director of Skier Services and Base Area Operations says, "be prepared for Saturday to feel like heli-skiing, but for the price of a lift ticket."
Lifts will start operating at 8:30am on Saturday, with the last ride on the Ripper at 2:30pm and on the Stoke at 3pm.
---