From Head to Toe, R Gear has you Covered
January 01 2018
R Gear stays focused on promoting local goods and ensuring guests have comfy feet.
By Melissa Jameson, Revelstoke Mountaineeer - Dec 28, 2017
View the Full Article at RevelstokeMountaineer.com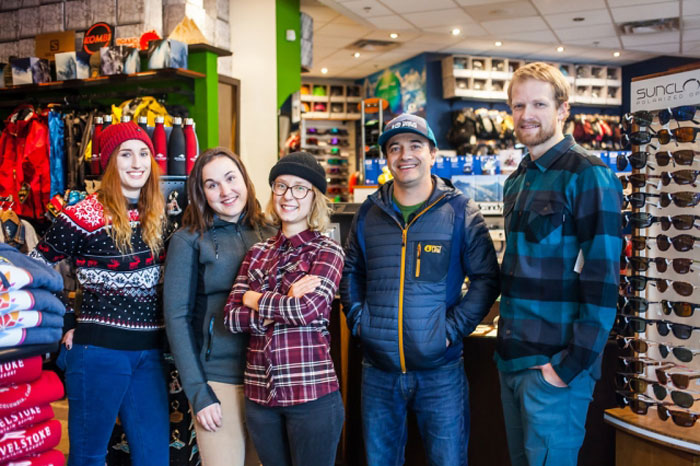 From Left to right: Louise Stanway, Retail Supervisor / Courtney Hill, Retail Lead-Hand / Vicky Roy, Merchandiser & Buyer / Benoit Lafon, Retail & Rental Manager / Bryn Vickers, Head Boot Fitter. Photo: Keri Knapp
---
R Gear is the place to head if you're looking for eco-friendly or locally sourced clothing and goods.

In the store, located at the base of Revelstoke Mountain Resort, you'll find items from in-town favourites like Integrated Apparel, Board Butter Glide Wax and Love Making Designs.

Take time to enjoy a mug of cocoa and enjoy the views after a day of hitting the slopes.
LEFT: Louise is wearing: Picture Signe Jacket, Picture Treva Pant, Picture Moder Jacket, and Picture Uncle Touque. Bryn is wearing: Picture Naikoon Jacket, Naikoon Pants, and Donut Toque. Photo: Keri Knapp

RIGHT: On Bryn: Dakine Sawtooth 3L Jacket, Dakine Stoker 3L Bib pants, Smith Gage helmet, Smith I/OX Athlete Collection – Xavier De La Rue goggles, Smith Rover Glove, Salomon X-Pro 110 boots, Atomic Bent Chetler. On Louise: Dakine Silcox 2L Jacket, Dakine Westside Pant, Smith Squad XL goggles, Dakine Team Fleetwood Mitt, Salomon Pillow Talk snowboard, NOW Ipo bindings. Photo: Keri Knapp
---
Benoit Lafon, manager of R Gear, said he began to look at creating an eco-friendly environment about three years ago. Much of that has included sourcing out locally available options. When local options aren't available Lafon seeks out Canadian made items or products that are eco-friendly.
Picture Organic Clothing from France is one such example. The company creates its clothing using a minimum of 50 per cent recycled materials. "Each time a jacket or pair of pants is at the end of its life you can ship it for free back to the company and they use it to make new clothing," said Benoit.
Having proper fitting boots means you'll be able to enjoy more time on the hill. Problems with your boots? Pop by R Gear and chat with head bootfitter Bryn Vickers.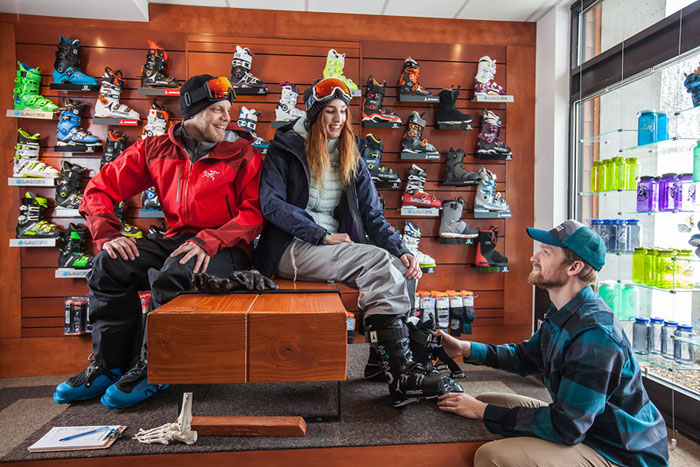 Devin is wearing: ARC'TERYX Tantalus Jacket, Cerium LT Vest, Sabre Pant, Smith Aspect helmet, Smith I/O goggles, Arc'teryx Rush Glove, Salomon S/Lab MTN boots. Louise is wearing: Sentinel Jacket, Cerium LT, Sentinel Pant, Smith Squad XL Athlete Collection – Sage goggles, Atomic Hawx XTD 110w boots. Photo: Keri Knapp
---
The store's eco-friendly policy also includes how customers take home their purchases. Two years ago Lafon got rid of plastic bags, swapping them for craft paper bags. "It's an additional cost, but we don't give away any more plastic bags. It's a long-term vision. I know our guests value that. They understand the effort of changing plastic bags. They recognize we are trying to do better," said Lafon.
R Gear's support of all things local goes beyond retail items. This year the store has created a program to sponsor young athletes. Skier Ryland Grimm will be sponsored by R Gear and they are currently looking for one or two more athletes to support. Lafon said they are looking for athletes under 16. "The idea is to help start their careers by providing them with gear they might not be able to afford," said Lafon. "Next year my goal is to connect them directly with a brand and they can be sponsored by the brand."
Avoid sore feet with custom-made footbeds for your boots.
When it comes to supporting skiers and snowboarders on the mountain, head bootfitter Bryn Vickers isn't worried if you're a sponsored athlete or even practically pro. He just wants to make sure your feet are comfortable. For Vickers the better your boots work the better your experience on the hill is going to be.
Fit, flex, and footbed are three of the things Vickers focuses on. "In any sport in order to stay balanced you bend at the ankles, the knees and the waist. That dynamic movement is what lets you stay centred. As soon as we're putting you in a fairly rigid piece of plastic and sending you down the hill we want you to be able to absorb those forces and work with them," said Vickers.
Stock insoles included with boots purchased from the manufacturer generally don't provide the required amount of support to ensure both comfort and performance. By creating custom orthotics for boots Vickers is able to provide proper supports.
The process starts with an assessment of your feet. After this a mould of your feet are cast using a specialized machine. "Everything that we do is about continuing to learn we're very proud of the level at which we fit, but we're also aware it's a continuous process. We learn we get better every year.
Vickers said he is happy to help anyone with their boots, even if they weren't purchased at R Gear. "We're on the mountain. If you're on the hill and you have any issues you can come see us. If we can fix it on the spot we can get you skiing in the time it takes you to grab a coffee," he said.
---
Melissa Jameson
Melissa Jameson is the civic affairs reporter for the Revelstoke Mountaineer. She handles the newsy side of goings on about Revelstoke. Got a news tip? Feel free to contact Melissa at [email protected].
---