Tube Park Opens This Weekend!
January 10 2012
Happy New Year! Ski conditions at Revelstoke Mountain Resort are fantastic with one of the deepest ski bases in North America and heaviest snowfalls to date!
We have received over 500cm of snowfall so far with more on the way this weekend. A cooling trend is settling in this week making for excellent climbing conditions for the groomers. Grooming will expand into new areas off The Stoke chair to make for an ideal ski surface in anticipation of snowfall forecast for this weekend.
Also, with cooler temperatures arriving, snow making at the base in the Turtle Creek Tube Park is set to take place later today and continue throughout the week with plans to open the Tube Park this weekend for the first time this season! This is the first-ever initiative to introduce man-made snowmaking at Revelstoke Mountain Resort with intentions to continue production throughout the season when weather permits to facilitate this new village-accessed family area.
Kids' ROC Weekend Programs a Huge Success!
Our Kids' ROC Weekend Programs commenced this past weekend and have had a huge response, with over 100 participants enrolled and daily attendance equivalent to full weekend attendance numbers from last year! High enrolment has saved money for many of the new participants by triggering new "groupon" discounts that were initiated this season.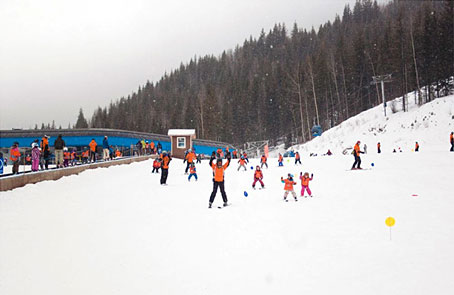 Thanks to feedback from the community, the Weekend Programs saw enhancements this year with a new visible bib program, the introduction of progress cards, and increased communication and awareness to both returning guests and new participants.
RMR introduces Yoga Après!
All skiers and snowboarders are welcome to join the new "Long Johns Sessions" put on by Stoked Yoga and taking place weekly at The Sutton Place Hotel – Revelstoke Mountain Resort. These yoga sessions are specifically tailored to the needs of skiers and snowboarders fresh from the hill. Stretching, massaging, releasing, and relaxing are the focus, but the best part is long johns a.k.a. thermals are acceptable attire!
Schedule: Weekly - Tuesday, Thursday, and Saturday
Time: 3:30 - 4:45pm - Meet in the lobby at 3:15pm
Location: The Sutton Place Hotel - Revelstoke Mountain Resort
Cost: $16 drop in rate
Other: Mats are provided
---