Spotlight Series: Q&A with Kate Ediger
January 29 2021
This year is all about staying close to home and celebrating all things local.
This week, we caught up with Kate Ediger to ask her what she's been up to this season. Kate has been a member of the RMR Pro Team for 2 years and is currently an ambassador for Burton Snowboards, Protect Our Winters Canada, Stanley, GoMacro, Somewear and works as a Tail Guide for K3 Cat Ski.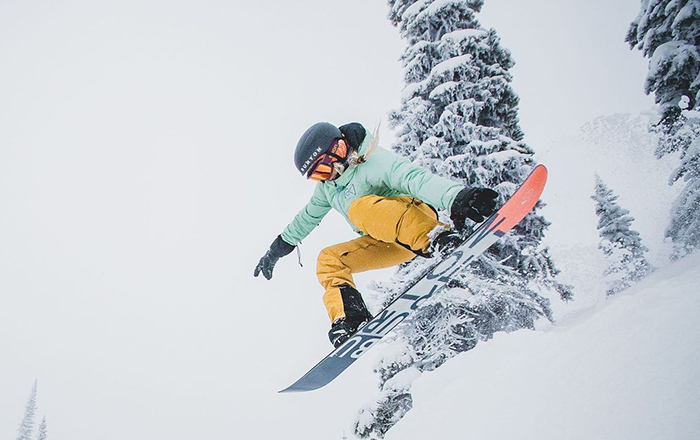 Kate Ediger on a pow day in North Bowl. Photo: Hywel Williams.
How and when did you realize you wanted to call Revelstoke home?
From the moment I came here in 2012. I was blown away by the mountains, the driven people in this small town, and the opportunities I had here.
What has this mountain taught you?
How to charge in steep terrain and hustle for the goods (I never had too back at home at Powder King). Also, always hit up Lemming Line when it first opens–it's never a bad choice.
Describe a perfect pow day at RMR
Early start and high vibes in the line up, then straight to party laps on the south face with all my closest friends. Riding fast and sending it, but having that wild energy from the crew you're with. Carefree and so many giggles. Add sunshine and views and that's what dreams are made of!
Got any secret stashes you'd be willing to share?
A sneaky top to bottom of Mid Station first lap is always a long powder run and so much fun! But nothing beats North bowl steep lines into the chutes and drops on a pow day.
Since masks and social distancing are mandatory this season, do you have any pro tips you can share on the subject?
We are so lucky to still play the way we have been. I bring two masks, one for the lift line in the am, and then a warmer face mask for the rest of the day because they get iced up.
What's been your favourite day or highlight at the resort so far this season?
Opening day is always the most exciting time with all of your friends, everyone is buzzing and the energy gets you fired up, plus this year it was a deep powder day too! But my favourite day by far this year, was a few weeks ago ,when we had a mid week 30-40cm pow day. It was bluebird and I didn't have to work. My boyfriend Tristan and I ripped top to bottom fresh pow laps from 9-3pm. It was one of those days you couldn't stop even though your body was telling you to go home.
What projects are you're working on or excited about this year?
I'm always dreaming and scheming up wild ideas. This year, I'm focused on empowering others to push themselves in the mountains. I was lucky enough to teach a group of ladies from BIPOC (Black, Indegienous, and people of colour) their first backcountry AST 1 in Whistler and I saw a deep need for more diversity and inclusion in the mountain world. I am also brain storming ideas to get girls confident on terrain choices and riding lines top to bottom without hesitation. I'm also working with the Revelstoke Snowboard club to organize a steeps and cliff drop clinic in March.
What are your goals for this season?
I'm slowly chipping away at becoming a lead guide, so I've been taking courses and trying to push myself mentally and physically. My biggest goals are to advance my skills in mountaineering and glacier travel so I can work towards larger objectives. I hope to do a few more self-guided journeys this year as well. I'm tentatively planning is an expedition to Mt. Waddington, and I'm also hoping to complete an all women's Sail to Ski trip on the coastal range–we attempted it last spring, but couldn't complete it due to the virus. As always, I hope to get out with my son as much as possible and continue to grow that special boy into a unique and happy little man!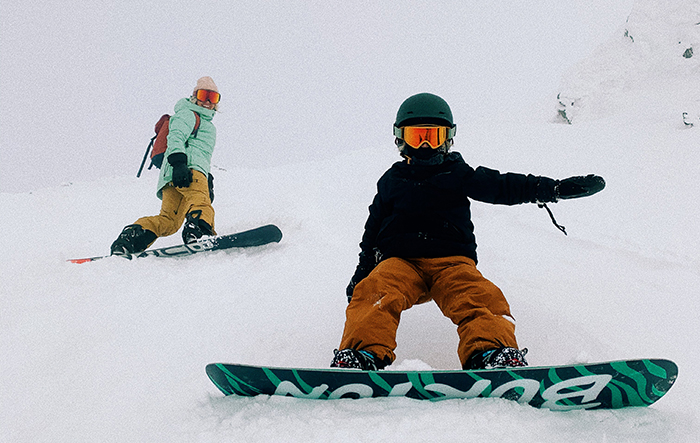 Kate and her son riding Subpeak.
---