Tips & Tricks For Your Summer Visit
June 07 2021
Summer 2021 is comin' in hot (pun intended), and with the ever-evolving circumstances here in British Columbia, it's important that we keep you, our guests, up to date on need-to-know information here at the resort. Below we have outlined some essential tips that we hope will aid in a safe and smooth visit.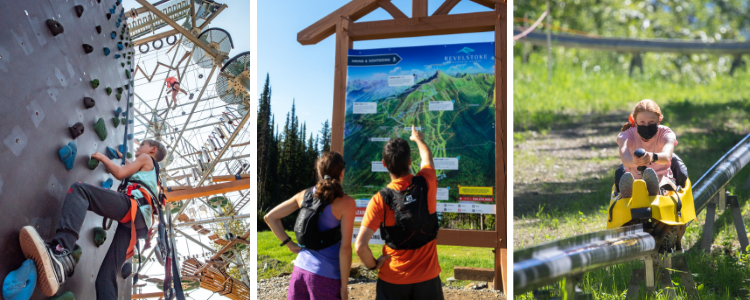 1. Purchase & Plan Ahead
This summer, take advantage of our online booking system and purchase your tickets in advance. Activities, particularly the Pipe Mountain Coaster, operate on a first-come, first-served basis, and is subject to availability – so it is important to purchase ahead of time. Ticket sales will be subject to capacity restrictions, making it even more important to plan your visit in advance.
A few tips for planning ahead:
Purchase online in advance and save up to 30% off. Discounted tickets are available up until 24 hours in advance.
Try the Play All Day Pass. The Pipe Mountain Coaster may see wait times of up to a few hours. With the Play All Day Pass, you can keep busy while enjoying all the activities the Resort has to offer – The Aerial Adventure Park, Hiking, Sightseeing, Axe Throwing, and Disc Golf!
Learn More About The Play All Day Pass »
Consider visiting during the week. We inevitably see more guests on the weekends, so coming on a week day could mean less lines and more time for fun!
2. Stay Updated on COVID-19 Restrictions
While we know everyone is excited to soak up that vitamin D in our beautiful mountain town, it's vital that everyone stays informed and abides by the current restrictions put in place by the Government of British Columbia. Current Provincial COVID-19 Restrictions Found Here »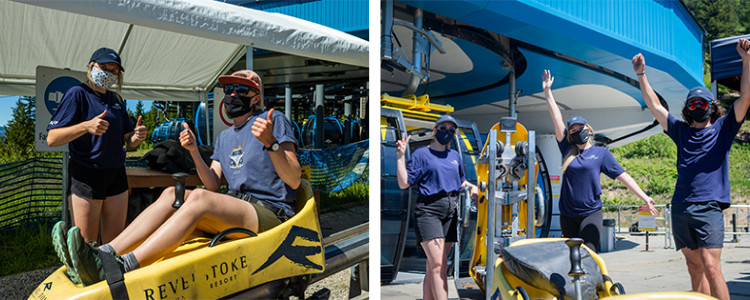 3. Be COVID-Cautious
If you do decide to visit the Resort, we ask that you take the following precautions to keep our guests and staff safe:
Stick to your bubble. Your core "bubble" means members of your immediate household. During your time at the Resort, we ask that you remain in your bubble while you travel, shop, ride, and dine.
Wash your hands and sanitize frequently. This one is pretty self-explanatory and is crucial to stopping the transmission of COVID-19.
Stay home if you feel unwell, or if you have been in contact with anyone who has tested positive for COVID-19! Please, do not visit the Resort if you or anyone in your group are experiencing symptoms. COVID-19 Symptoms include but are not limited to: fever, cough, sore throat, runny nose, unexplained fatigue, headaches, loss of taste and/or smell.
Read The Resort's Detailed COVID-19 Policies Here »
4. Beat the Heat
Fun-in-the-sun ain't so fun when you're not equipped for the heat. Enjoying warm weather comes with responsibility, and in order to make the most of your day, we highly recommend following the below tips:
Stay hydrated! Bring a refillable water bottle and/or hydration pack to ensure you and your group can safely handle those extra-hot days.
Wear sunscreen! It is so hard to enjoy days in the sun with an irritable sun-burn, so take the preventative measure and lather it on. Prevention is key, because there's no going back after those sun rays do their dirty work.
Dress to protect yourself from the sun! This means: A. Wear a hat to shield your head/face from the sun, and B. Wear lightweight and breathable clothing that covers the extra-exposed parts of your body (shoulders, for example).
Don't fret if you've forgotten any of these key items. The retail shop at the Resort, R Gear, carries all sorts of goodies to keep you protected!
5. Prepare for Cold
This may seem contradictory to the above section - however it is easy to forget that the higher up you get in the mountains, the cooler the temperature is. Up in the alpine, temperatures drop significantly so it is important to bring layers to keep warm in those chillier-than-average locations.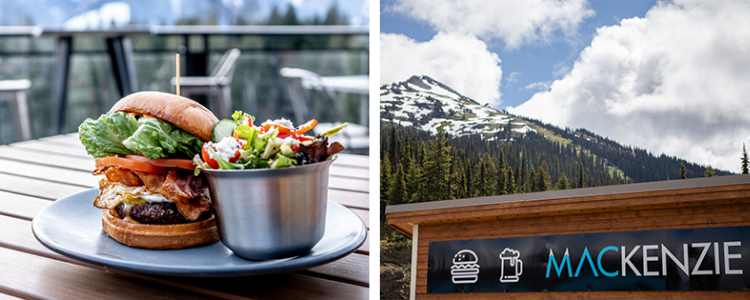 6. Order Food Online
Getting hungry but still up on the mountain enjoying the trails? No problem! Simply pull out your phone and order your meal in advance – and have it ready to eat once you get there. Summer dining options include Rockford Bar | Grill, and the Mackenzie Outpost. Keep in mind the Mackenzie Tavern and the Revelation Lodge are not open for the summer season. Order Now »
7. Be Kind and Patient!
With physical distancing measures in place across the resort, lines and wait times may look and feel longer — but be patient with our staff and with each other. Remember, any day in the mountains is better than a day in the office! Given the current circumstances, we're lucky to have the opportunity to get out and enjoy the resort — so please keep this in mind, and be respectful during your visit.
Summer Activities
Revelstoke warms up for summer, becoming an adventure playground with opportunities for outdoor activities around every corner.
Health & Safety
The health and safety of our guests and team members is our highest priority. Learn more about the Revelstoke Mountain Resort PureClean program.
---