Ten Metres of Snow & a 300cm Base!
March 16 2012
With more snow and cooling temperatures in the forecast, March is continuing to deliver at RMR.
The total snowfall for the 2011-2012 season has just breached 1000cm and our settled base has hit 300cm for the first time this year, guaranteeing amazing coverage throughout spring!
'Spring' seems a poor choice of words however, as after 27cm in 24 hours on March 16th, conditions still feel more like mid-winter. March typically brings storm cycles to RMR and this year is no exception, with 177cm snowfall since March 1st.
---
Historical Snowfall Tracker
Watch the snow accumulate as it falls throughout the season with our new Historical Snowfall Tracker!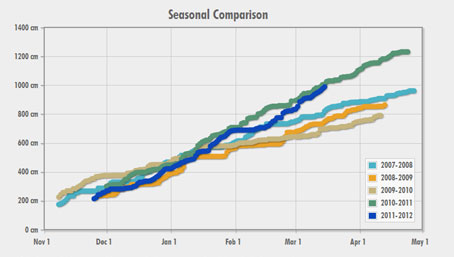 Track the length and intensity of the storm cycles by observing the sharp rises, and the gorgeous bluebird days on level pitches.
---
March Lift Ticket Special
Two lift tickets for just $119 with no blackouts and no restrictions!
Take advantage of our abundant powder harvest this season and treat yourself with this great lift ticket deal, or our March White Sale Ski & Stay Special - Kids ski, stay and rent for free!
---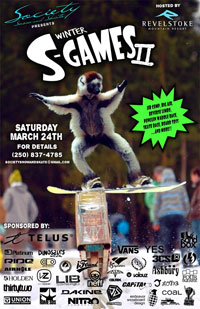 S Games 2
The second annual S Games event returns to the Mid-Mountain Lodge - prizes and entertainment guaranteed!
Society Snow & Skate kicks off our Spring events on March 24th with a series of events for snowboarders, including a Big Air, Rail Jam, Ollie High Jump, Hip High Air, Penguin Race, Skate Race and Board Toss.
---