Tips Up with Izzy Lynch
February 20 2015
Here at Revelstoke Mountain Resort we are known for our powder, but sometime even in a powder mecca like Revy there are dry spells.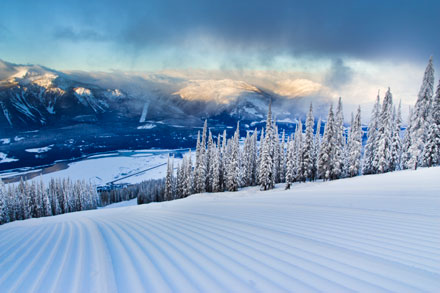 Snow Rodeo corduroy. Photo: Ian Houghton
We know it can be hard not to get down when the knee-deep pow that you were counting on doesn't materialize. That's why we asked our pro team member Izzy Lynch to give us her tips for having fun no matter what the conditions! Check them out and then grab your carving skis and go show those groomers who's boss!
What are your tips for having a wicked day when there is no new snow?
There is always fun skiing to be found at RMR even on days when there is no fresh snow. With all the little jumps and features Separate Reality to Critical Path is one of my favourite runs no what the conditions are. For a wicked day with no fresh grab a crew of friends and lap that all day long.
A friend asks "without new snow is it even worth it for me to go up the mountain?" what do you say?
Yes! Top to bottom high speed groomers is one of my favourite things to do when there is no fresh snow on the mountain. The groomers at RMR are super long and there are so many fun rollers and side hits if you want to get some air.
What's the best thing about skiing groomers?
Going fast with your friends.
What are your favourite groomed runs to rip down here at RMR? Why?
Wooley Bully - fun rollers!
Snow rodeo - top to bottom no stopping fun
Hot Sauce - perfect fall line pitch in the sun
Okay, you've convinced me to go! When should I head up?
First tracks on fresh corduroy is pretty nice, but during warm spells I like to wait until things soften up and the sun is hitting the mountain!
Any technique tips for someone who hasn't skied anything groomed in a while?
Balance is important no matter what terrain you are skiing. Whether you are in pow or on the groomers it's important to stay forward and maintain a good athletic stance.
---