Dining at Revelstoke Mountain Resort
Rockford Wok | Bar | Grill
Perfect for lunch, dinner and of course, the cocktail hour and late night snacks; Rockford Wok | Bar | Grill is neither strictly a restaurant nor strictly a bar.

Rockford is a blend of both. It offers a high quality menu, generous portions and a welcoming atmosphere with stylish West Coast accents. Rockford is an inviting place for everyone and for every occasion where the food and drink are equally important.
With our core philosophy of "Love at First Bite", Rockford's menu was created and stacked with unique "wok inspired" snack and share plates and entrees, flavourful pastas and traditional west coast entrees with a Rockford twist. Food that proudly announces quality and comfort - and some adventure - reaffirming that "back-to-basics" cuisine with contemporary flavor profiles is indeed very cool!
Rockford's menu is full-of-life and introduces you to unique tastes and food experiences, cooked up and served by our ultra friendly, dynamic and engaging culinary and service team - always smiling, vibrant and ready to please. The Rockford experience will invite you to keep coming back again and again.
If you seek a familiar, comfortable experience, Rockford features lush booths, as inviting as your family room sofa. Our large communal and interactive tables are just the right fit for a place to socialize and share stories with friends, both old and new.
Rockford's atmosphere is always comforting, unpretentious and full of energy, cultivating and delivering the neighbourly and welcoming feeling many diners seek. Of course, the experience would not be complete without the personality drawn from our staff team. Rockford provides a place for our local and visiting Guests to truly call their own.
---
Revelation Lodge
The stunning post-and-beam Revelation Lodge features a deck with spectacular views of the valley and the Monashee Mountains.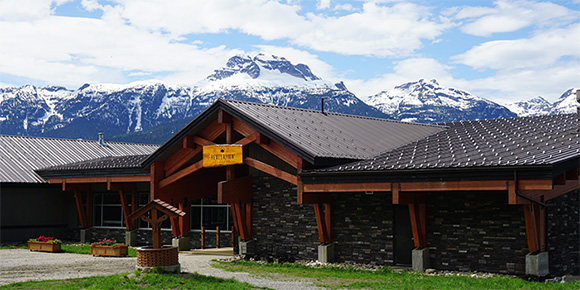 Sit and enjoy all of your breakfast favourites while soaking up the best view in town. Breakfast buffet served daily from 8am throughout the summer.
Breakfast Buffet Info »
---
The Mackenzie Outpost
At the top of the Revelation Gondola, The Mackenzie Outpost features a selection of delicious food and drinks.