Selkirk Tangiers Heli Skiing
Turn your dream of unlimited fresh tracks into reality this winter with a day (or better yet, multiple days) with Selkirk Tangiers Heli Skiing.
500,000 Acres of Terrain
We have half a million acres of terrain and over 400 established runs, giving us the biggest heli ski tenure in Revelstoke.
45+ Years of Experience
Selkirk Tangiers has been offering heli skiing in Revelstoke since 1978, giving us over 45 years of experience exploring the area.
40-60 Feet of Snowfall
Snow. Light, dry, and LOTS of it. Our tenure in the Selkirk and Monashee Mountains consistently delivers the goods.
"The Heli Skiing Capital Of The World"

The New York Times
In a region that receives 12-18 metres (40-60 feet) of snowfall each winter, Selkirk Tangiers will blow you away with unbelievable powder conditions. 
Bordering two pristine national parks, the ski tenure for Selkirk Tangiers is an unspoiled 500,000+ acres of unspoiled wilderness. With over 400 established runs from towering peaks to sheltered valley floors, Selkirk Tangiers offers a variety of terrain options. Ski from alpine cols, across wide-open glaciers, through rolling meadows, and down into old-growth cedar rainforest, past giant centuries-old trees.
Selkirk Tangiers Heli Skiing also has a reputation for putting safety first. With over 45 years of operations, you can rest assured that you are in good hands. 
Regardless of whether you're looking to book your first heli ski adventure or plan an annual trip, Selkirk Tangiers Heli Skiing is your go-to powder provider!
Single Day Heli Ski Packages
Looking for the ultimate powder day? Join a team of professionally trained, world-class guides and experience the BC backcountry goods. Selkirk Tangiers offers a variety of single-day and two-day packages using both the Bell 205 and A-Star helicopters.
Multi Day Heli Ski Packages
One day is never enough! Selkirk Tangiers offers a variety of multi-day heli ski packages, including Classic packages for three to seven days, or customized Small-Group and Private options.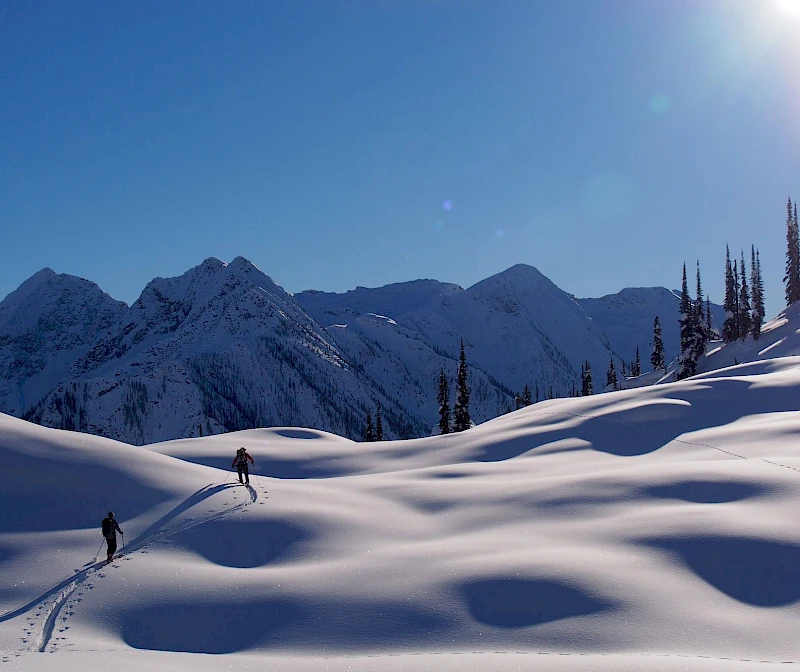 Heli-Assisted Ski-Touring
Looking to earn your turns? Get the best of both worlds this winter with Selkirk -Tangiers Heli-Assisted Touring. This program will send you deep into the Selkirk or Monashee mountains with a certified guide, where you will experience the true magic of the Revelstoke backcountry. If you love to travel up as much as you do down, this is for you!