June 24, 2023
Mastering Your First Day at the Bike Park: 8 Essential Survival Tips
If it's your first time hitting the bike park, it's completely normal to feel a mix of excitement and jitters. You might have questions about lifts, equipment, downhill bikes, and trail etiquette. But fear not! Bike parks are all about unleashing the fun and embracing adventure. - by Kate Roberts
Get ready, bike season is finally here! Revelstoke Mountain Resort's Mountain Bike Park is the latest gem in BC's collection of lift-accessed trail networks. To ensure you have the best experience on your inaugural bike park adventure, we've compiled a list of eight essential things to keep in mind. So, grab your gear, get ready for an adrenaline rush, and prepare for an unforgettable time at our bike park. Let the adventure begin! 
Survival tip #1: Choose the right bike.  
Leave your XC bike at home and opt for a proper Downhill or Enduro bike instead. Trust us, it's not just a matter of style - it's a matter of safety, comfort, and pure enjoyment. Whether you plan on tackling the mellowest trails or going all out, having the right set of wheels is crucial for bike park adventures. 
If you don't own a mountain bike, no problem! You can rent a two-wheeled steed for the day from the Rental Shop beside Guest Services. It is always a good idea to book early to secure the model and size of your choice.  
Survival tip #2: Wear the proper safety equipment. 
Listen up, folks! Helmets are an absolute must. No ifs, ands, or buts about it. Without a helmet, you won't be allowed on the gondola—simple as that. Now, here's a friendly tip: opt for a full-face helmet if you can. It provides extra protection by covering not just your head, but also your lower face and jaw. Think about it: you've only got one precious brain, and dental work isn't exactly easy on the wallet. So, why not prioritize your safety and go for the full-face option? 
It's also wise to gear up with knee pads, a back/chest protector, goggles, and gloves. And hey, why not take it up a notch and throw on some elbow pads while you're at it? The more protection, the merrier! 
If you don't have your own set of protective gear, worry not! We've got you covered at our Rental Shop, conveniently located right next to Guest Services. You can rent all the essential gear, including helmets, knee pads, elbow pads, and chest/back protection. So, no excuses, my friends! 
Remember, safety first, fun second. Gear up, protect yourself, and get ready for an / ride at our bike park. 
Survival tip # 3: Wear suitable clothing 
If you value the skin on your body, the bike park is not the place to wear short shorts or tank tops. The more skin you cover, the more protection you have against scrapes and abrasions—because, let's be honest, crashes can and do happen. 
Now, let's talk about the other end of the clothing spectrum. Remember the good ol' days of using hair ties or tape to secure your pant legs as a kid, so they wouldn't get tangled in the bike chain? Well, the same principle applies here. If your clothing gets snagged on your bike, it's a recipe for a potential crash. So, let's avoid going all out with overly baggy outfits, shall we? 
Most riders go for the tried-and-true bike-specific gear, designed with durable and breathable materials. Picture knee-length shorts or full-length pants, paired with a long-sleeve jersey.  
Now, let's address the topic of shoes. Bike-specific kicks are a total game changer and highly recommended. But hey, if you haven't gotten your hands (or feet) on a pair just yet, fear not! You can still rock a pair of skater sneakers with a grippy sole. Just remember, regular running shoes are a bit too soft and won't offer the necessary support for your feet, both underneath and around them. 
Stay stylish, protected, and ready to conquer those bike park adventures! 
Survival tip #4: Don't be afraid to ask for help at the lift 
It can be both intimidating and confusing taking your bike with you on the lift for the first time. It doesn't help that there is often a lineup of folks behind you. It's easy to get flustered. But hey, here's a little secret: even experienced riders can find it confusing! So, don't hesitate to ask for assistance from the lift attendant or the person behind you. Trust us, everyone has been new at some point, and they understand the challenges you're facing. We've all been there, and we're here to support you along the way!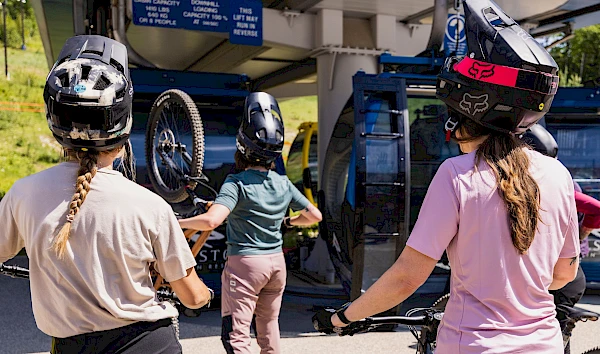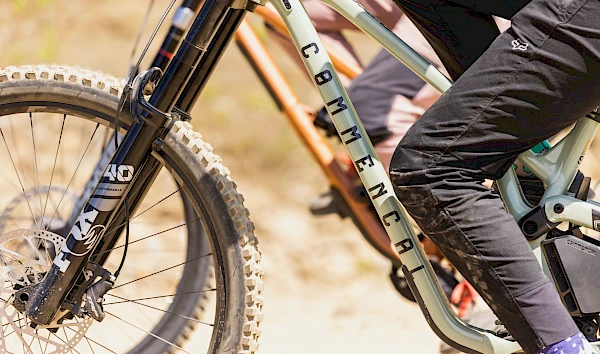 Survival Tip # 5: Start slow and small 
When it comes to riding in the bike park, forget about phrases like "jump into the deep end" or "fake it till you make it." They don't apply here. It's important to ride trails and features that match your skill level. Thankfully, we have a trail rating system in place for that reason. It starts with green, the easiest level, followed by blue, black, and double black. So, make sure you choose trails that align with your abilities and take things one step at a time. 
If you're new to the bike park, stick to the greens and blues. The black and double black trails often contain mandatory jumps, drops, and technical sections that are not meant for beginners. Safety first, folks! 
Here at our bike park, we've got you covered with a variety of trails, catering to all skill levels. For those starting out, we have the delightful Salad Fingers trail, which offers a perfect introduction. Once you've mastered Salad Fingers, you can progress to the exhilarating 5620 trail. 
Remember, repetition is the key to improvement. So, keep riding, enjoy the journey, and watch your skills soar! 
Survival Tip # 6: Learn the basics of bike park etiquette 
Mountain biking etiquette is pretty straightforward. Just remember the golden rule of "don't be a jerk," and you'll be good in almost any situation. Oh, and let's not forget the important rule of "don't cause crashes"—that covers most of the rest! 
Now, let's dive into some specific etiquette tips: 
Before dropping into a trail, take a quick look behind you. The person in motion has the right of way over someone who is stationary. If you've stopped at a trailhead or anywhere along the trail, make sure to glance behind you before setting off again. This simple act can prevent dangerous situations for both you and other riders coming in at full speed. 
When you need to stop on a trail, it's totally fine, but be considerate and get off the trail. Take a breather and relax somewhere away from the trail itself. This way, you won't obstruct other riders coming down, and you'll reduce the risk of collisions. The same goes for checking out a jump or technical section before riding it. Steer clear of the take-off, landing, or the middle of the section. Just find a spot to the side of the track, and you won't be in anyone's way. 
Passing other riders? Although not prohibited, passing is not recommended. The person in the back should always yield to the person in the front. When it comes time to pass, please wait until the rider in front of you has safely pulled off to the side before making a move. When the path is clear feel free to pass at a safe speed. It's courteous to communicate your intentions. Call out to slower riders and let them know which side you intend to pass on. If they're not feeling confident, give them some time and space before zipping past them. 
Following these simple guidelines will ensure a more enjoyable and harmonious mountain biking experience for everyone on the trail. So, let's keep the vibes positive, respect one another, and have a blast out there!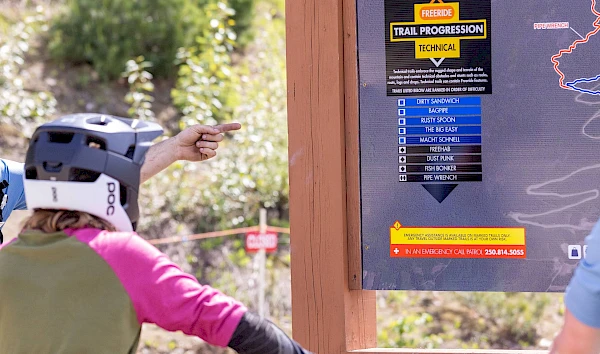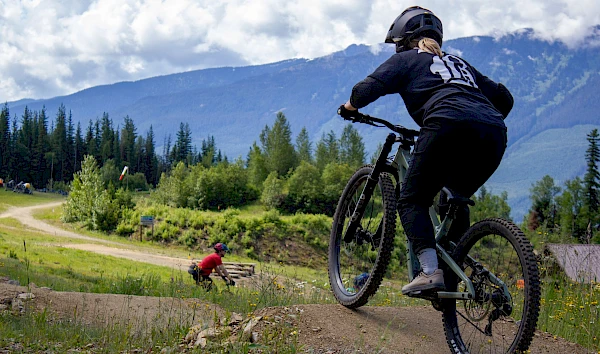 Survival Tip # 7: Take a lesson 
If you want to level up your mountain biking game—becoming better, faster, and safer—taking a MTB lesson is the way to go. It doesn't matter if you're a newbie or a seasoned rider, a lesson will shower you with a wealth of invaluable tips and tricks, ensuring you have an absolute blast on the bike. 
At our bike park, we have a team of experienced instructors who are ready to guide you on your journey. They offer personalized instruction to riders of all levels, helping you improve your skills and boost your confidence on the trails. These lessons are designed to be informative, engaging, and tailored to your specific needs. So, get ready to soak up a ton of tips and tricks that will elevate your riding experience. 
Curious about the lesson options? Look no further than our Mountain Sport School. You'll find a range of lessons to choose from, ensuring there's something that suits your goals and skill level. 
Survival tip # 8: Make friends & have fun 
Everything becomes even more enjoyable when you have someone to share the experience with. Learning, laughing, and riding together allows you to conquer new trails and features while pushing and inspiring each other. One of the incredible aspects of mountain biking is the fun you have with friends—it's what makes it truly awesome. 
If you're looking to expand your biking circle, we have an incredible ride series designed for ladies. Join us for a fun and social gathering, where you can explore green and mellow blue trails in a supportive and inclusive environment. 
Bike parks are all about having fun and experiencing excitement. So, take a moment to unwind, soak in the thrill, and simply enjoy the ride! And don't forget to head over to the Rockford Bar and Grill patio for some well-deserved après-ride fun. Share stories, keep the vibes high, and make the most of your unforgettable day.