August 28, 2023
Why You Should Bring Your Family To The Bike Park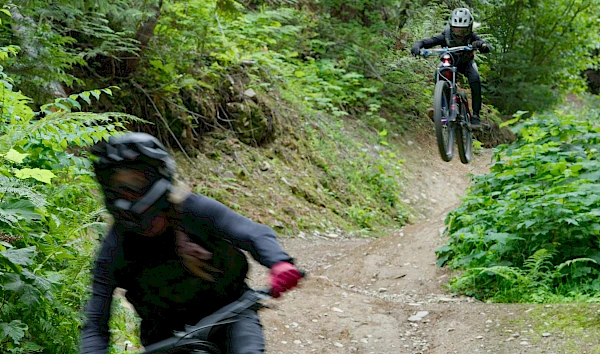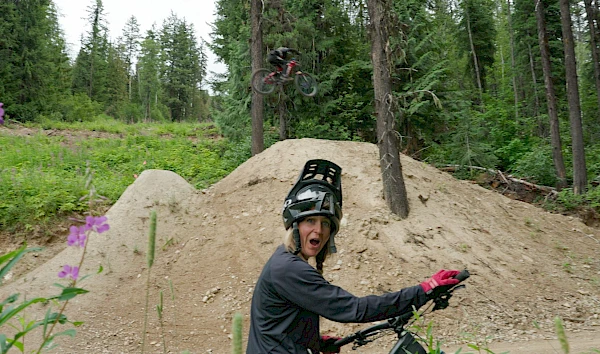 Trails and bikes have evolved a ton over the years, and bike parks have become playgrounds as perfectly curated to rubber as corduroy is to skis. Though RMR's bike park might be famous for its epically long descents, its buff berms work just as well for families as they do for rowdy downhillers. 
One of the biggest boons to parents is that the park is broken into thirds, vertically, which means you can start by dipping your toes into shorter trails at the bottom. Lower mountain is only a five-minute gondola ride, which makes it easier to pre-ride, re-ride, and then freeride with rambunctious kids who might not have the patience or stamina for longer laps. This section is less steep, but packed with features kids (and adventurous parents) love to session. The laps are low commitment and quick, delivering you back to the base area in as little as 20 minutes.
Once either you or the kids are ready for more, ride the second stage of the gondola all the way up to Guilt Trip, which traverse into a braid of blue flow trails progressing downhill at steadily moderate grades. While the laps are indeed very long from here, they are built for cruising, and the berms are some of the best in the world—like catcher's mitt in every corner.
Many of the marquee trails—Fifty-Six Twenty, and Bagfull of Boogie —are just as flowy for intermediate riders as they are for pre-teens trying to up their game. Parents can ride right alongside at their own level while keeping their tires planted, and kids can send the biggest jumps (if they have the skills) on the mountain. Or vice versa, but good luck keeping up with kids these days (see the video).
If you get to feeling a little shown up on the jumps, another way to flex is to tackle the seven-kilometre Stoke Climb, and gain the full 5,620 vertical feet of the aptly named Fifty-Six Twenty blue flow trail. The alpine is only accessible by pedalling (e-bikes included), so the barrier to entry is a little higher, but it means an almost private ride on trails with way less traffic if you do tough it out. It takes a couple hours to do, mind you, so you need to be able to pass off any younger kids not up for it. And herein lies the hitch in passing off kids anywhere: you need to keep them entertained.
"There's always something to do: swimming, the mountain coaster, going for burgers or popsicles. It kind of makes for no downtime, which is good for high-speed kids. Obviously the bike park is amazing, but it requires skill. The mountain coaster is good for anyone, with zero skill. And my kids love it!"

Tessa Treadway, pro skier, intermediate mountain biker, & mom
Lucky for you, at RMR, the bike park may in fact be the least entertaining activity for kids. With two Pipe Mountain Coaster tracks, an Aerial Adventure Park, hiking, multiple restaurant options (including at the gondola top, where you can get gigantic bags of fries) and even a pool if you're staying at the Sutton Place Hotel, there's more to fill your time than you likely have time for.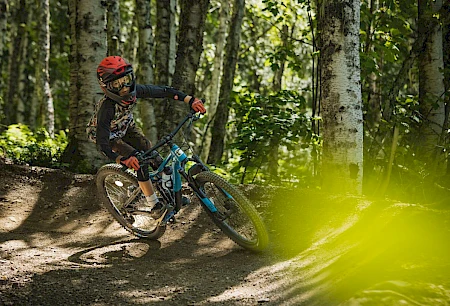 Kids Camps & Programs
A great opportunity for young riders to learn and improve their mountain biking skills in a safe and engaging environment, and build confidence on their bikes
Learn More

about Kids Camps & Programs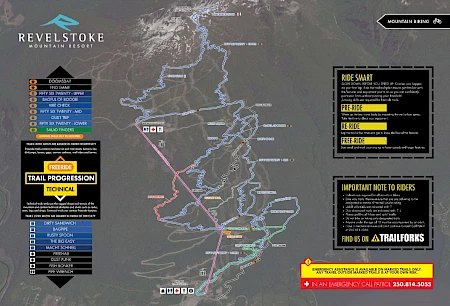 mtb trail map
Explore over 50km of mountain biking trails, including the legendary Fifty Six Twenty, which runs the full vertical of the Resort at 5,620 vertical feet.
View Map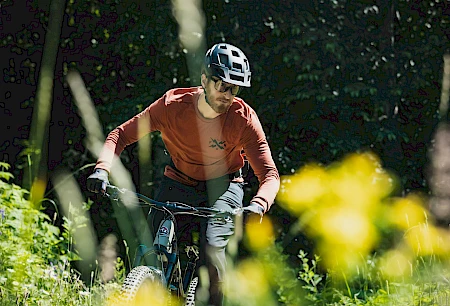 Mountain Bike Tickets
Buy online and save up to 20% off MTB Tickets. Choose from one or two days.
Shop Now